July 30, 2021—The Miller Art Museum in downtown Sturgeon Bay announced today the selection of two visual artists for its inaugural year of the Dome House Al & Mickey Quinlan Artist Residency, set to kick-off later this month. The residency program, administered jointly with the Quinlan/Wagner family, seeks to re-establish the Dome House, as it was originally intended by Al Quinlan, as a creative haven for living artists and advances the museum's mission to expand its role in education and to shape and influence the artistic development and growth of artists in the area. Minnesota-based artist Amy Usdin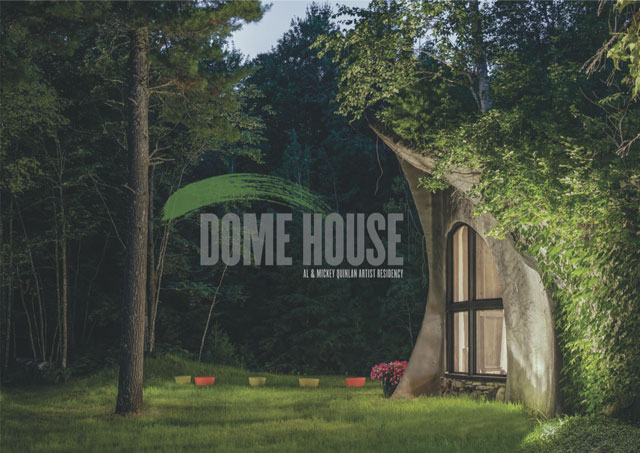 and Milwaukee-based artist Ariana Vaeth were selected from a pool of nearly 30 applicants by the program's Artist Selection Committee. In addition to being awarded an unrestricted $500 stipend, each artist will receive access to time, space and resources to advance their work at the iconic Door County structure.
"The two distinctly different visual artists exemplify what we were looking for and are reflective in some aspect of the history of the Whitefish Bay community or of Quinlan's artistic practices," says Elizabeth Meissner-Gigstead, executive director of the Miller Art Museum. "As difficult as it was to narrow the broad and diverse applicant pool, what emerged in the selection process was rather serendipitous, revealing unexpected connections to place. We're thrilled to welcome these artists to our Door County community and we look forward to sharing more details of this exciting new endeavor with the community in the coming weeks."
The application-based program invites mid-career level Midwest artists to Wisconsin's Door Peninsula to reside for a 6-week period at the 5,073-square-foot Dome House and allows artists to focus in the areas of creative development, fellowship, sense of place, learning and community.
---
2021 DOME HOUSE AL & MICKEY QUINLAN ARTISTS-IN-RESIDENCE
---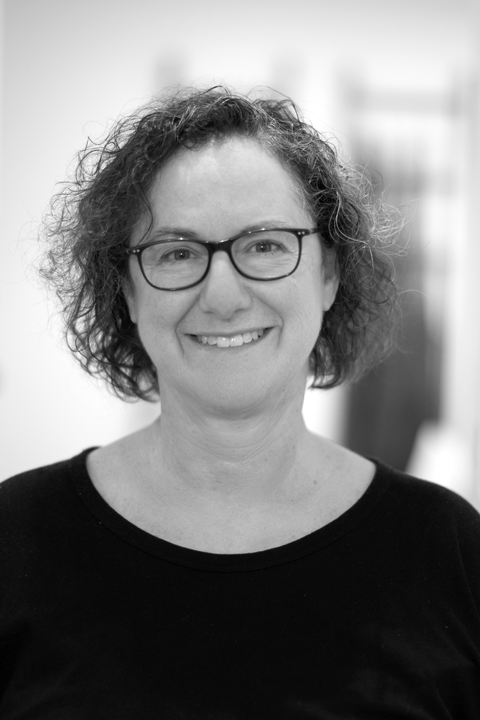 Amy Usdin is a Twin-Cities-based fiber artist. She reclaims vintage fiber nets as armatures for sculptures that speak to memory, nostalgia and the meaning of objects. She exhibits regionally and nationally with recognition including the 2019 Surface Design Award from the Surface Design Association's International Exhibition in Print and a 2020 Artist Initiative grant from the Minnesota State Arts Board. Most recently, her work has been featured as curatorial selections for online artist interviews with warp and weft magazine and through-objects.com.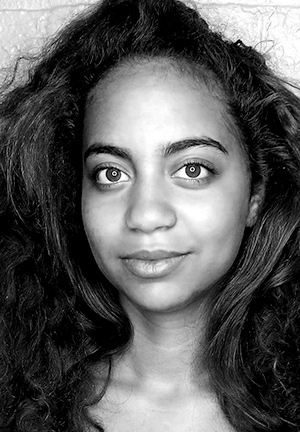 Ariana Vaeth is a Milwaukee-based artist whose work is focused on contemporary realism through the self-portrait. Raised in Baltimore, MD, the artist is a Graduate of MIAD (Milwaukee Institute of Art and Design) and fulfilled an exchange program at the Maryland Institute College of Art. Following undergrad, she completed a studio-based Artist in Residence program at her alma mater. Vaeth has shown in Milwaukee at the Portrait Society Gallery, the Charles Allis Museum, and Haggerty Museum of Art as well as Woman Made Gallery, Chicago, and the Museum of Science and Industry for 'Black Creativity.' She is a 2017 Mary L Nohl Fellow in the Emerging Artist category and was an inaugural recipient of Fellowship.art, a grant and 12-week program modeled on Gener8tor's recognized accelerator for creative entrepreneurs.
The Door County landscape has long inspired artists of all disciplines visiting or residing on the Peninsula. The Miller Art Museum's permanent collection reflects this history with the nearly 1,500 works it holds, comprised of many of Door County's most celebrated artists, past and present. Its new Dome House Al & Mickey Quinlan Artist Residency seeks to further broaden this scope and allow a new generation of artists to discover and immerse themselves in the amazing creative playground that is the Door Peninsula.
July 16, 2021—The Miller Art Museum in downtown Sturgeon Bay is pleased to partner with Al Johnson's Swedish Restaurant in presenting Scandinavian American: Photography by National Geographic Explorer Erika Skogg. The exhibition is scheduled to open to the public on Saturday, July 24 at 10am and an in-person opening reception will be held from 5 – 6:30pm. The event marks the Miller's first opening reception since the pandemic began in early 2020.
Scandinavian American is a photographic essay comprised of 24 photographs by Door County, WI, born National Geographic Explorer Erika Skogg. The photographs depict the lifestyle, celebrations and ethnic traditions of Scandinavian-American communities taken throughout the Midwest to visually preserve Scandinavian-American culture; a project funded by the National Geographic Society.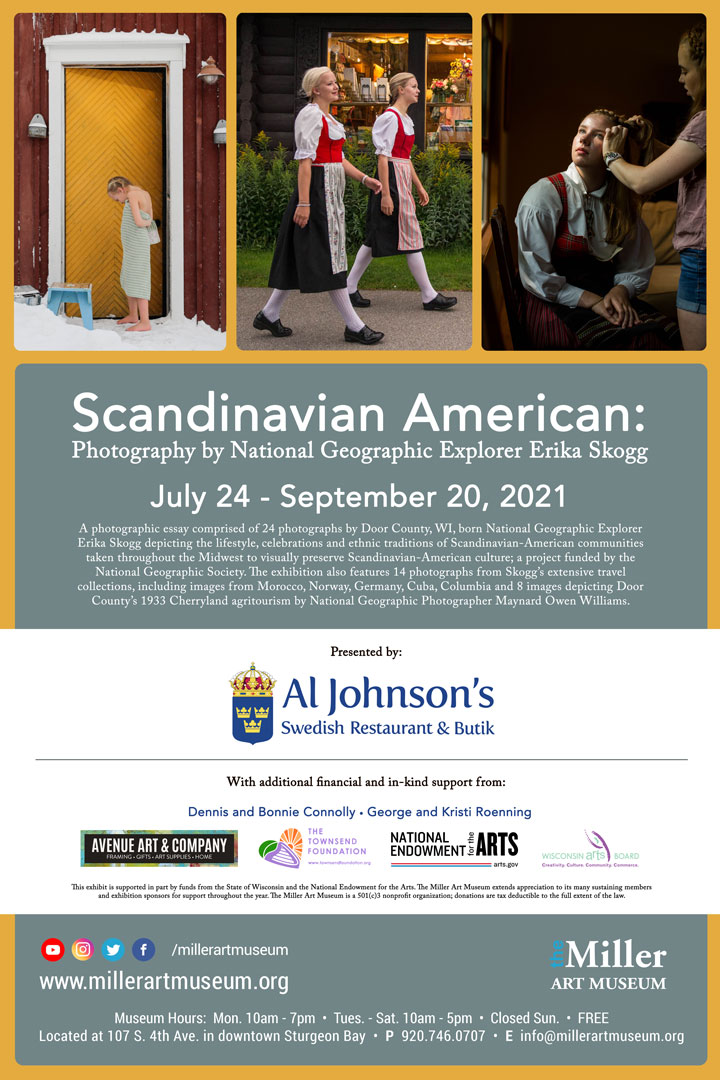 "This is an extraordinary opportunity for the museum and the Door County community to come together, celebrate and learn about Scandinavian culture," says Elizabeth Meissner-Gigstead, executive director. "We have so much gratitude for all who have helped realize the exhibition, especially Door County's most legendary Scandinavian icon, Al Johnson's Swedish Restaurant, and have no doubt that visitors will connect to Erika's images in a very personal way, given our deep Scandinavian roots."
Together with the Scandinavian imagery, the exhibition also features 14 photographs from Skogg's extensive travel collections, including images from Morocco, Norway, Germany, Cuba, Colombia, and 8 images depicting Door County's 1933 Cherryland agritourism by National Geographic Photographer Maynard Owen Williams. The Miller Art Museum was granted permission from the National Geographic archives to publish and exhibit Williams' images, never before published and never before been seen by the public.
(Sturgeon Bay, WI)—July 2, 2021 – The Miller Art Museum in downtown Sturgeon Bay announced today preparations for the organization's annual Art & Treasures Fundraiser, now in its 16th year and scheduled to debut to the public on Saturday, August 7, 2021. The Museum is seeking tax-deductible donations of new and gently used items from the community to support its fundraising efforts.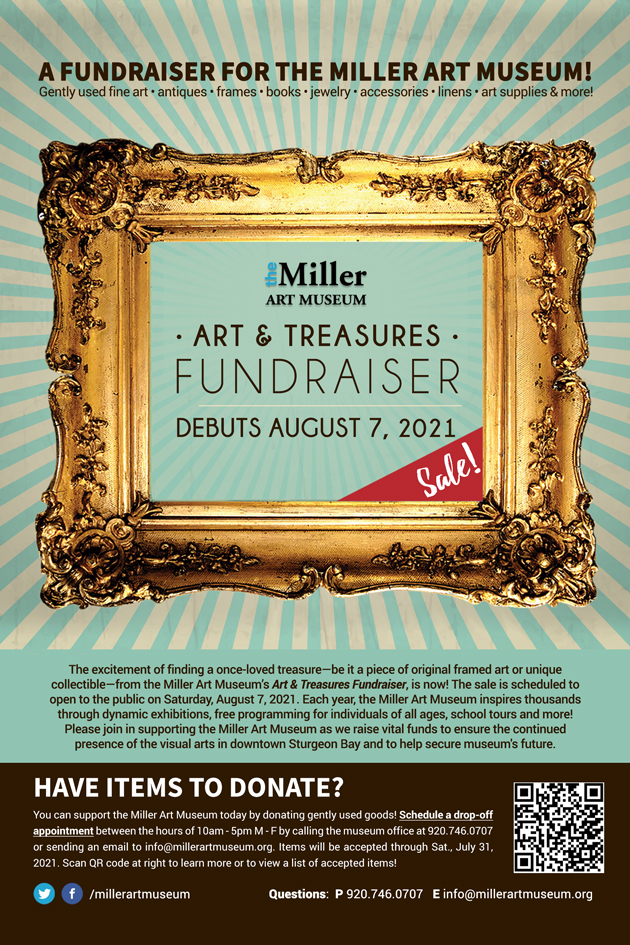 The Art & Treasures Fundraiser presents a fun an eclectic collection of items from year to year, including new and gently used original fine art and reproductions, art-related items, objects d' art, art supplies, books, a diverse selection of high-quality frames, household décor, vintage goods, collectibles, holiday items, fabrics, small furniture items, linens and unique oddities. This year's fundraiser will again be held at 142 S. 3rd Avenue in downtown Sturgeon Bay, the former Healthy Way space now occupied by the Miller Art Museum.
"Art & Treasures in particular impacts our ability to carry out our mission and our programming," says Executive Director Elizabeth Meissner-Gigstead. "We're incredibly grateful to the community for their tremendous support of this endeavor through the form of donations or purchases from year to year as it, in part, sustains our work and ensures access to a continued presence for the visual arts in downtown Sturgeon Bay. And, it's an event that the public looks forward to and enjoys every year."
For more information or to donate items for the sale, contact the Miller Art Museum office at 920.746.0707 or . Drop-off appointments can be made between the hours of 10 a.m. and 5 p.m. Monday through Friday or at the museum 10am – 5pm Saturday.
Donors are asked to have items contained in a bag or box for ease of unloading and storage. Items will be accepted through the end of July and must be clean and in good condition. Items NOT accepted include electronics, CD's, large furniture, personal products (lotions, soaps, etc.), and bed components (mattresses). Questions may be directed to museum staff for items not specifically listed.
Open Call to Visual Artists Living or Working in Wisconsin
June 25, 2021—The Miller Art Museum in downtown Sturgeon Bay is now accepting submissions to the 46th Juried Annual, an exhibition highlighting contemporary work from the State's visual artists.
The exhibition is open to artists at all career levels and invites a range of media and artistic practices from traditional to abstract. Artists over the age of 18 who live or work in Wisconsin are eligible to apply. Artists can register and submit work via the ArtCall platform through the Museum's website. Artists may enter up to two (2) original works for a $30 non-refundable entry fee.
This year marks a new direction for the exhibition, a longstanding pillar of the Museum's exhibition program, with the broadening of the geographic scope from a 6-County radius to all 72 counties throughout the state.
"By broadening the reach of eligibility, we're inviting new visual artists to the Northeast Wisconsin region specifically and encouraging diversity in the competition, while also bringing awareness statewide to the talent of the tremendous creative community that is Door County," says Helen del Guidice, curator of exhibitions and collections.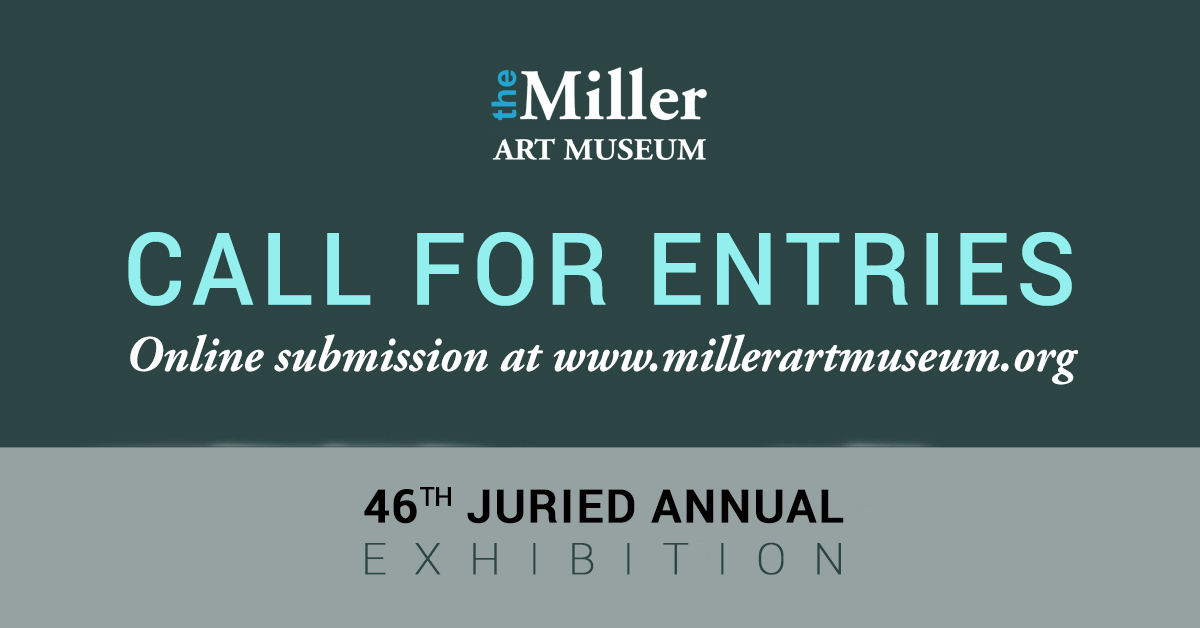 Eight artists will be recognized with a total of $1,950.00 presented in cash awards at the opening reception on Saturday, Sept. 25; three Special Merit Awards ($250 each), three Juror's Choice Awards ($200 each), the Gerhard Miller Award of Excellence ($500), and the Bonnie Hartmann Award for Outstanding Creativity ($100). Submissions are being accepted online through Monday, August 16 at 5pm at ArtCall.org. Submission information, including the prospectus and link to the online submission portal, is available on the Museum's website at millerartmuseum.org.
Artists selected for inclusion in the exhibit will be notified Wednesday, August 25. The 46th Juried Annual exhibition is scheduled to be on display in the main galleries of the museum from Saturday, September 25 through Monday, November 8, 2021.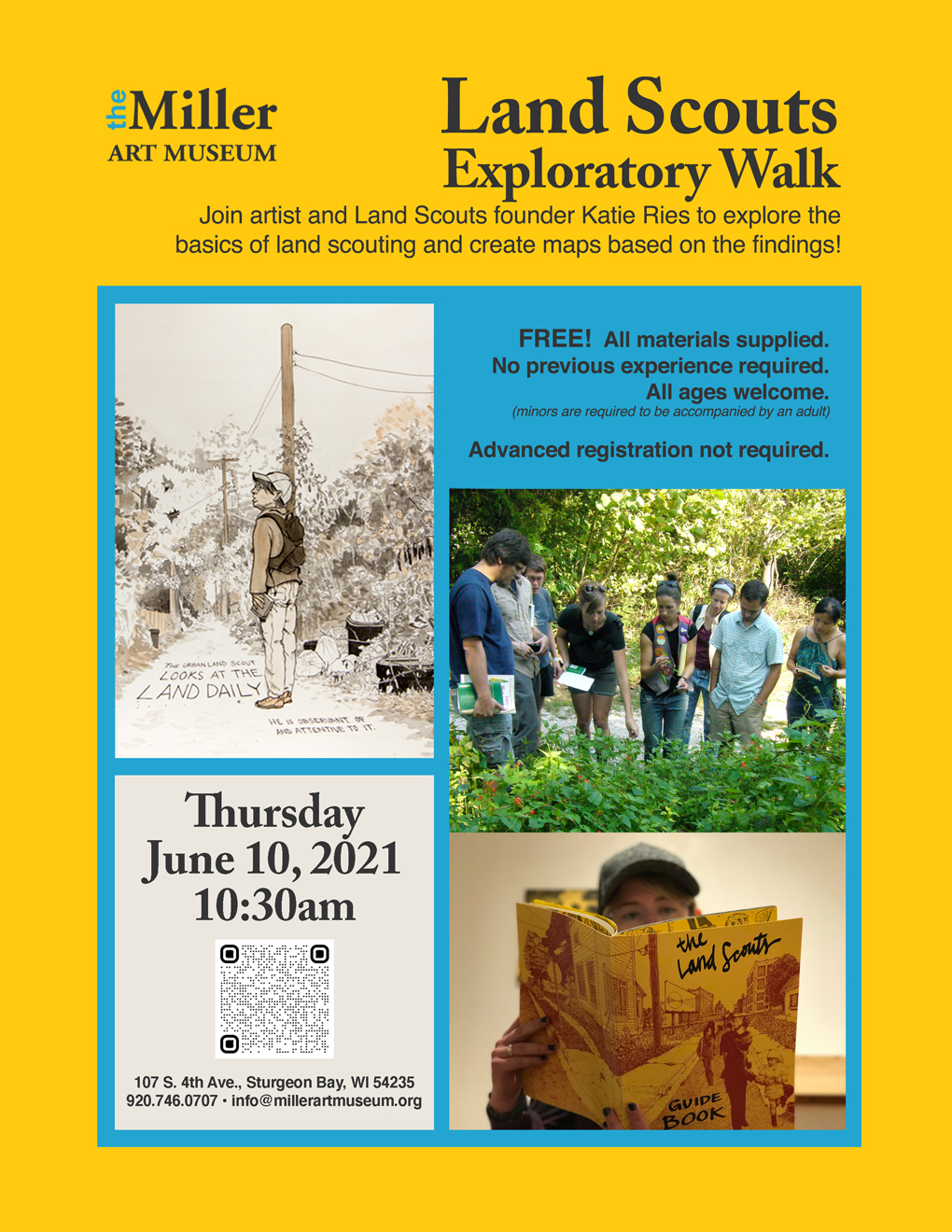 June 3, 2021—The Miller Art Museum, located in downtown Sturgeon Bay, invites the public to participate in a Land Scouts Exploratory Walk, part of the Museum's Second Thursday Program Series, with Katie Ries, educator and visual artist who is represented in the Museum's newest exhibition, Factory Made: Artists Explore the Industrial Scar. Ries will lead participants on a mini excursion in and around the exterior perimeter of the museum where the basics of land scouting will be discussed and maps created based on the group's findings. The FREE program is set for Thursday, June 10 at 10:30am. All materials will be supplied and no previous experience is required. All ages are welcomed but minors are required to be accompanied by an adult. All participants should be able to cross the street unassisted. No advance registration is required.
Katie Ries received her B.A. in Studio art (Phi Beta Kappa) from the Colorado College in 2005 and her Master of Fine Arts with a concentration in Printmaking from the University of Tennessee–Knoxville in 2010. She is an interdisciplinary artist, cultivator, and teacher living in Northeast Wisconsin where she is an Associate professor of Art at St. Norbert College in De Pere. She makes artwork about modern environmentalism, community and the power of observational drawing. Her prints, objects, drawings and events invite viewers to participate in actions of amateur naturalism and iterative making. She is the founder of the Land Scouts, a program promoting foundations of land stewardship through simple and affordable actions. Her work is represented in public and private collections throughout the United States.