August 25, 2022—The Miller Art Museum is pleased to offer an opportunity for the Door County community to meet 2022 Al & Mickey Quinlan Artist in Residence Nicole Shaver on Saturday, September 3, 2022. Attendees will have the opportunity to meet the artist, and learn about her artistic process and what she aims to accomplish during her 8-week residency at the Dome House in a short presentation scheduled for 4:00 – 5:30pm. Due to limited on-site parking at the Dome House, attendees are asked to park at 3752 Whitefish Bay Road, Sturgeon Bay, and walk to the Dome House located 0.7 miles north on left.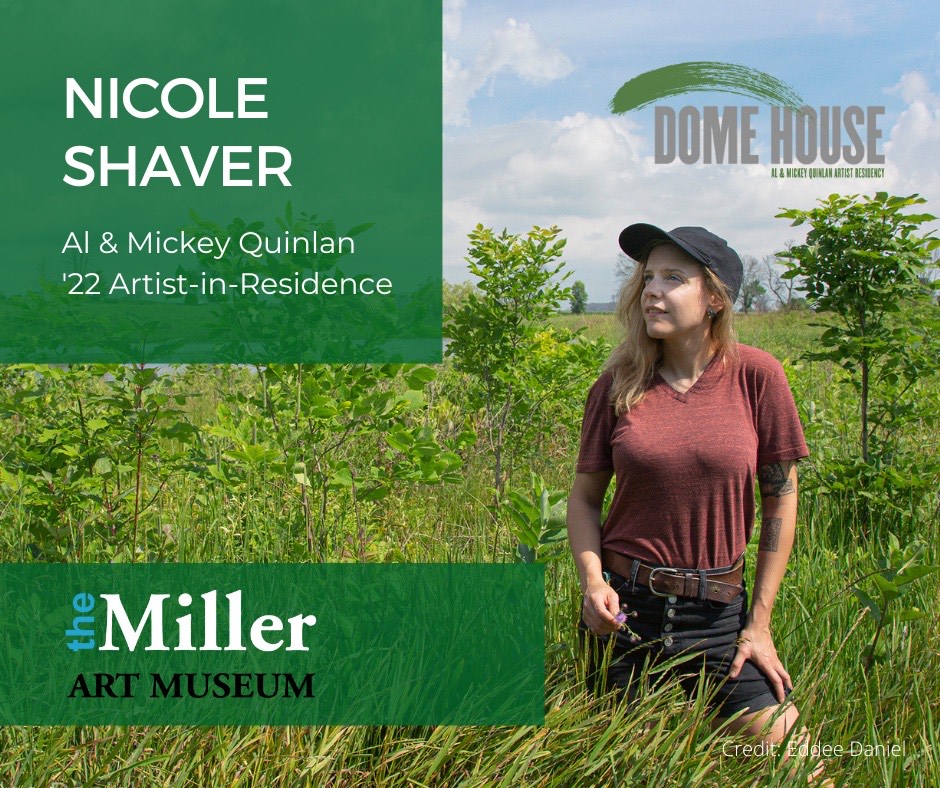 The residency, now in its second year, is administered by the Miller Art Museum jointly with the Quinlan/Wagner family and carries on the original intent of the Dome House, as visioned by Al Quinlan, to serve as a creative haven. The program advances the museum's mission to expand its role in education and to shape and influence the artistic development and growth of artists in the area. Milwaukee-based artist Nicole Shaver was selected from a pool of 24 applicants by the program's Artist Selection Committee. In addition to being awarded an unrestricted $500 stipend, she will receive access to time, space and resources to advance her work at the iconic Door County structure.
"My research as an artist involves collecting and meditating on new places by exploring through walking, running, sketching, making, and photographing. A place is like a person, if one fails to have genuine interaction with it, it too fades from our memory. I'd be honored to get to know the unique forested shoreline of Whitefish Bay through my time at the Dome House.," states Shaver in her Statement of Intent.
"While my concerns lie within concrete science and the threats of Climate Change, I investigate and create within an innately curious, observational, and playful scientific method. This involves collaboration with local scientists, visitors, and found materials: man-made detritus and geology. I rely on collected specimens, historical research, and spatial interaction as semiotic compasses to help navigate the undiscovered identity of the Dome House," she continued. "During my residency, I will create visual landscapes that combine reality with impression, providing a framework that empathizes with the transitioning landscape. Through my artist body and influenced by immersive surroundings, my output is a record employed through interdisciplinary media: installation, performance, printmaking, photography, and sculpture."
Nicole Shaver is a Milwaukee area-based multi-disciplinary artist who creates in her rural studio in Saukville, WI. She creates artwork that is inspired by ideas of place and belonging. She researches different geographical sites and employs them as metaphorical compasses to create landscapes combining reality, fantasy, and memory. Her sculptures are geologically and industrially influenced; a conglomerate of natural and man-made, plastic yet polished, navigating a space between a banal rock and a sublime ruby. She is a recent finalist for the Mary L. Nohl Fund Fellowship for Individual Artists and currently serves as Operations Manager for the Milwaukee Artist Resource Network (MARN) where she manages key daily operations in support of all initiatives across the organization including the communications for membership correspondence and centralized information. She is committed to the artistic community in southeastern Wisconsin, regularly exhibiting and joining together area creatives. In addition to her work with MARN, Nicole is also an artist in residence at Studio 224, a collaborative printmaking and photography space in Port Washington. She is also a founding member of the Rural Midwest Artists Cooperative, a new group of Midwestern art folx organizing and exhibiting together. Shaver received her BFA from the University of Wisconsin-Madison and her MFA from the University of Iowa. She has attended artist residencies in Colorado, Iceland, North Carolina, Ohio, Portugal, Vancouver, and Wisconsin while exhibiting widely throughout the United States and Scandinavia. Her work has been featured on NPR's All Things Considered and published in "New American Paintings" and "Studio Visit Magazine."
This event will be the first in a series of four public events happening in conjunction with the 2022 program. Find additional information on the Miller's website under "Programs & Events" located under the "Learn" tab. Upcoming events open to the public are listed below:

Meet Artist in Residence Nicole Shaver
Date: Saturday, September 3 | 4:00pm - 5:30pm
Location: Dome House | Park at 3752 Whitefish Bay Road, Sturgeon Bay

Open Studio with Nicole Shaver
Date: Saturday, September 24 | 10:00am – 2:00pm
Location: Dome House | Park at 3752 Whitefish Bay Road, Sturgeon Bay

Artist Walk with Nicole Shaver
Date: Saturday, October 1 | 10:00am - 2:00pm
Location: Whitefish Dunes State Park | Nature Center

This artist walk at Whitefish Dunes State Park through the Brachiopod Trail is free and open to the public, please RSVP by registering for the event here.
***PLEASE NOTE THAT THERE IS AN ADMISSION FEE TO ENTER WHITEFISH DUNES STATE PARK RANGES FROM $3-$11 PER CAR. Refer to the website https://dnr.wisconsin.gov/topic/parks/whitefish/info for more information.
10 - 10:30am: Meet at the Whitefish Dunes State Park Nature Center
10:30am: Walk the Brachiopod Trail with Nicole Shaver


Al & Mickey Quinlan Artist in Residence Closing Celebration
Date: Friday, October 7 | 4:30pm – 6:30pm
Location: Dome House | Park at 3752 Whitefish Bay Road, Sturgeon Bay