August 20, 2020 – The Miller Art Museum in downtown Sturgeon Bay is set to open a new exhibition on Saturday, August 29 featuring contemporary artwork by artists from the Northeast Wisconsin Lakeshore region, including Door County. The 45th Juried Annual—on display through October 19 in the main galleries of the museum—highlights work by 45 artists residing in Brown, Door, Kewaunee, Manitowoc, Oconto, and Sheboygan counties. This year's jury panel was comprised of industry professionals Tedd Lott, Artist, Designer (Grand Rapids, MI); Annemarie Sawkins, PhD., Independent Curator (Milwaukee, WI); and Elizabeth Wiza, Preservation Coordinator, Kohler Foundation, Inc. (Sheboygan, WI).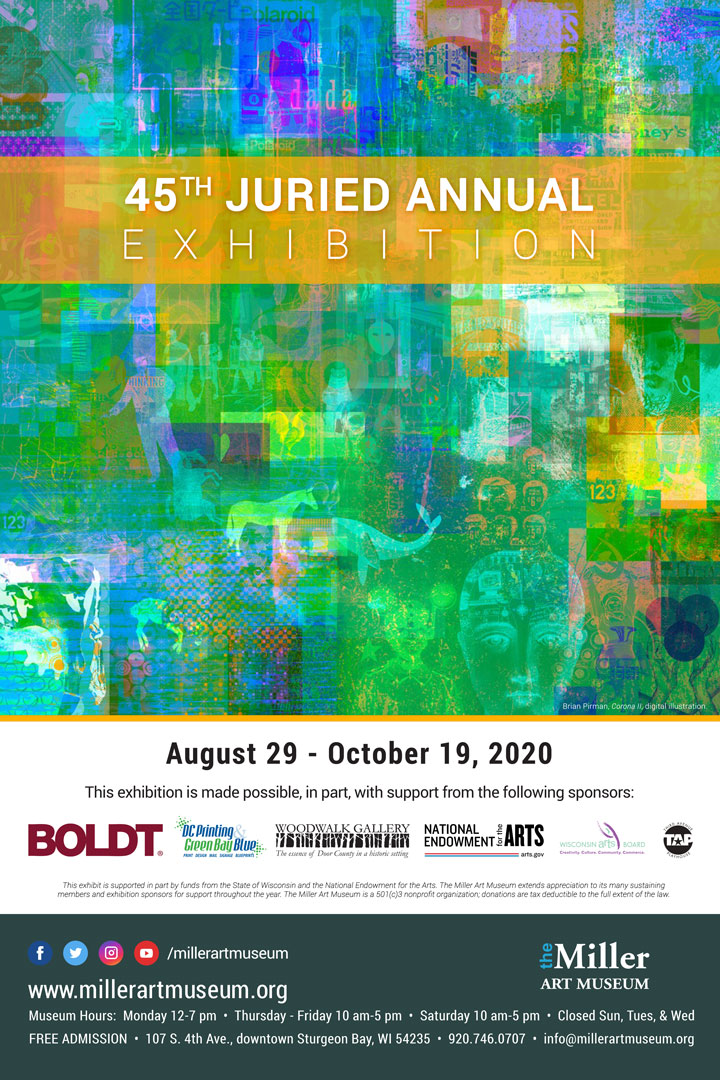 Like any good juried exhibition, the 45th Juried Annual is about diversity and quality rather than theme. "Artwork representing a vast range of styles and techniques was selected, illustrating a wide range and mastery of medium," says Curator of Exhibitions Helen del Guidice. "And, as is expected, the jury panel exhibited great respect and consideration to each submission and offered poignant, independent perspectives on the works."
Examples include Zebra, a black and white scratchboard rendering, by Jeff Logic and Wonder Woman, a paper and fiber collage portrait by Liz Maltman. Other techniques presented include: the use of arylic and epoxy on mirror in Wood Ducks by Gary Gossens, raw-edge fiber collage in Gathering by Susan Hoffmann and oils on copper-relief in It's Spring by Kandy Otto. While Brian Pirman's computer generated work Corona II reflects on elements of chaos created by the COVID-19 pandemic, Randall Dettmann's works The Root of All Evil and Bubbles of Bliss vigorously defends nature and the environment. Subjects and genres are wide-ranging and include wildlife, still life, portraiture, comical surrealism, abstraction and collage. Artist statements will enhance interpretation of the works both in the physical exhibition and in the virtual experience, with many artists reflecting on the subject of isolaton as a result of the pandemic.
The second-floor galleries of the Ruth Morton Miller Mezzanine feature a new selection of portrait and still life works from the Museum's permanent collection. Highlighted are a series of black and white photographs by David Parris (b. 1935), who offers an atypical view of Venice, Italy in the early morning hours before its iconic piazzas and canals are filled with activity, people and pigeons.
"Along with the isolation many have felt during the time of quarantine, the possibility of pleasure travel or taking that bucket-list trip to exotic far-off places seems more and more remote. We invite the public to the museum to be transported through art; these works offer a visual journey at a time when we cannot physically go ourselves," del Guidice continued.
Also on view from the permanent collection are beachscapes rendered with macro-perspectives including Beach Debris by Tamlyn Akins and Racing the Dunes by Lynn Gilchrist. Founder Gerhard Miller's work can also be viewed in the Miller Gallery, also located on the mezzanine.
Following is a complete list of exhibiting artists in the '45th Juried Annual': Cristian Andersson, Alexis Arnold, Cheryl Becht, David Bueschel, Ginnie Cappaert, W. Joseph Christiansen, Daniel Cross, William Dais, Randall Dettmann, Kristine Diekman, Richard A. Geudtner, Gary Gossens, John Guger, Karen Hertz-Sumnicht, Phyllis Hoopman, Robert Hoopman, Thomas Jordan, Anne Kelly, Patrick Kennedy, Jim Leatham, Mitch Leavitt, Jeff Logic, Mary Ann Logic, Stephanie Lord, Liz Maltman, Janel Maples, Katy Moore, Hans Nelson, Abigail Newman, Dennis Ninmer, Kandy Otto, Sophie Perry, Brian Pirman, Susan Reynolds-Smith, Nancy Sargent, Mac Schueppert, Arlene Stanger, Seth Taylor, Hermke Timm, Christine Van Sickle, Linda Welch, Sara Willadsen, Patricia A. Williams, and Archelle Wolst.
The exhibition has been made possible with financial support from the following sponsors: The Boldt Company, Woodwalk Gallery, and Herb Kohl Philanthropies. Additional support has been provided by Third Avenue Playhouse, the Wisconsin Arts Board with funds from the State of Wisconsin, and the National Endowment for the Arts. It will be on display through October 19, 2020 and also available for virtual viewing through the Museum's website after September 14 at www.millerartmuseum.org.
The Miller Art Museum re-opened on July 27 after a 4-month closure due to COVID-19, with limited hours. Temporary COVID-19 hours are Monday 12-7, Thursdays and Fridays 10-5, and Saturday 10-1. The museum is closed on Tuesdays, Wednesdays and Sundays. Visitors will want to make note that masks are required for entry into the building and social distancing will be enforced. For Museum Store purchases, only credit or debit cards will be accepted and visitors will be encouraged to utilize provided hand sanitizer. A complete list of new safety protocol is available online at www.millerartmuseum.org.
The museum is located within the Door County Library at 107 S. 4th Avenue, Sturgeon Bay. Admission is free; an elevator is available to access galleries on the Ruth Morton Miller Mezzanine.
FOR IMMEDIATE RELEASE (Sturgeon Bay, WI) – July 17, 2020 – It's an exceptional opportunity—and a once-in-a-lifetime experience for some—for a student to have artwork displayed in an art museum and to be given the opportunity for celebration that is afforded through such a platform. This year, the Miller Art Museum celebrated their 46th year of showcasing the creative talent of Peninsula youth in their annual Salon of Door County High School Art.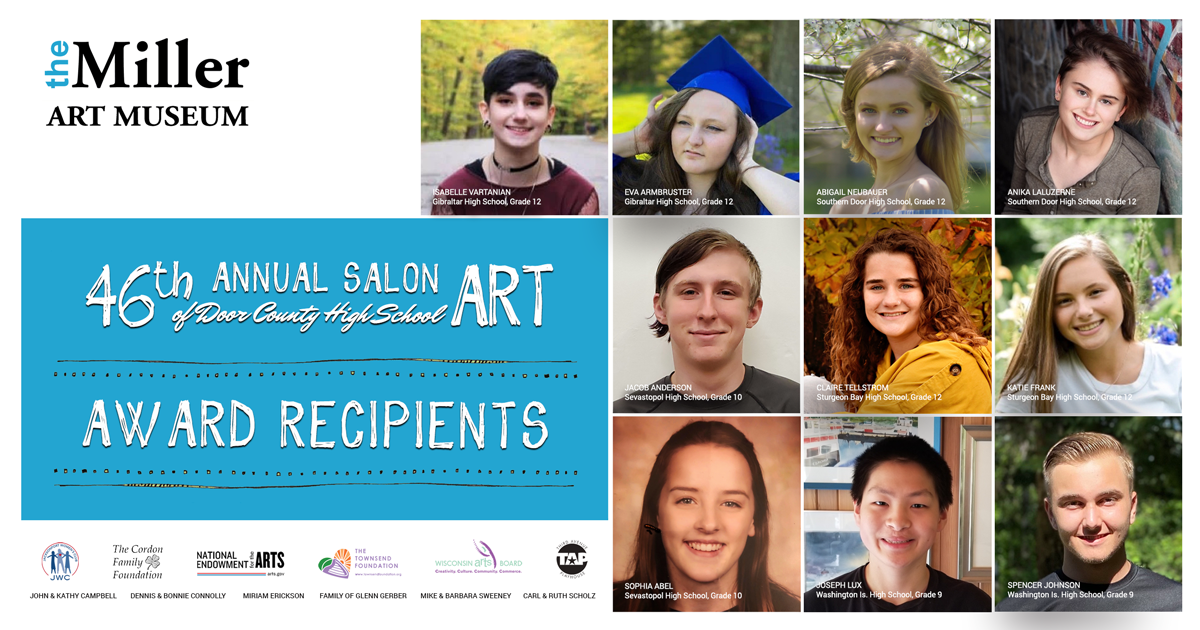 The exhibit, which was scheduled to open in May with a reception and accompanying awards ceremony, was canceled due to the Coronavirus (COVID-19) and presented online instead with the help of Curat10n, a London-based firm who built a virtual gallery that replicates the Miller Art museum. Viewers can experience the museum virtually through their computers and personal devices and see nearly 200 works by 103 students from students in grades 9 – 12 from the 2019-20 academic year, pre COVID-19, who attend school at the Peninsula's five high schools—Gibraltar, Sevastopol, Southern Door, Sturgeon Bay, and Washington Island. The exhibition can be viewed online at https://bit.ly/3fgFlmT.
"This year's exhibition, by and far, was momentous in that it was not at all like any other student exhibition we have ever presented," says Elizabeth Meissner-Gigstead. "The circumstances surrounding the COVID-19 closure required us to change course swiftly and we couldn't be more pleased with the end result. I'm thrilled to announce this year's award winners and recognize all student participants—the final product is something each student should be proud of and use as a means to further their creative pursuits."
In total, 10 awards will be distributed. Award winners will receive their cash prize and recognition letter through the mail, which has been made possible through the generosity of sponsors John and Kathy Campbell, the Cordon Family Foundation, Dennis and Bonnie Connolly, Miriam Erickson, the Family of Glenn Gerber, Jacksonport Women's Club, Carl and Ruth Scholz, Michael and Barbara Sweeney, The Townsend Foundation and the Wisconsin Arts Board with funds from the State of Wisconsin and the National Endowment for the Arts and in-kind support from Third Avenue Playhouse.
Award of Excellence ($100 cash award) recipients are:
Isabelle Vartanian (Grade 12, Gibraltar High School)
Sophia Abel (Grade 10, Sevastopol High School)
Annika LaLuzerne (Grade 12, Southern Door High School)
Claire Tellstrom (Grade 12, Sturgeon Bay High School)
Joseph Lux (Grade 9, Washington Island High School)
Honorable Mention ($50 cash award) recipients are:
Eva Armbruster (Grade 12, Gibraltar High School)
Jacob Anderson (Grade 10, Sevastopol High School)
Abigail Neubauer (Grade 12, Southern Door High School)
Katie Frank (Grade 12, Sturgeon Bay High School)
Spencer Johnson (Grade 9, Washington Island High School)
Each year since the museum's inception, many thousands of students in Door County have been given the opportunity to have their talents celebrated and recognized through this annual student exhibit. More information about the exhibit can be found here.
FOR IMMEDIATE RELEASE (Sturgeon Bay, WI)—June 26, 2020 – The Miller Art Museum in downtown Sturgeon Bay announced today that it will be accepting donations for its late summer Art & Treasures Sale starting on Wednesday, July 1, 2020. The fundraiser was initially set to take place from August 1 – 15 but due to the rapidly changing circumstances surrounding COVID-19, event organizers are expecting a reduced schedule, which will be announced as more details emerge regarding the status of the pandemic. The museum is closely monitoring and will take all proper precautions to ensure the safety of the community.
"This fundraiser in particular impacts our ability to carry out our mission and our programming," says Executive Director Elizabeth Meissner-Gigstead. "We, like everyone else, are pivoting from our usual mode of operations to ensure we are compliant with all recommended safety guidelines—the biggest will be a change in location from inside the museum to the former Healthy Way building located at 142 S. 3rd Avenue. This will allow us the space needed for social distancing and proper quarantining of donations as they arrive. We're hopeful for a successful fundraiser in our 15th year this year despite the pandemic. The time has allowed many to clear clutter and organize while the Stay at Home order was in effect; with that, we're hoping that the community will consider the Miller Art Museum as a home for their items which supports a continued presence for the visual arts in our community here in Sturgeon Bay."
FOR IMMEDIATE RELEASE (Sturgeon Bay, WI)—June 18, 2020—The Miller Art Museum in downtown Sturgeon Bay is pleased to announce a call to artists for its 45th Juried Annual Exhibition, scheduled for August 29 – October 19, 2020. Eight artists will be recognized with a total of $1,950.00 in cash awards; three Special Merit Awards ($250 each), three Juror's Choice Awards ($200 each), the Gerhard Miller Award of Excellence ($500), and the Bonnie Hartmann Award for Outstanding Creativity ($100) will be awarded. A $25 non-refundable entry fee is required; artists ages 18 years of age or older residing in Door, Kewaunee, Brown, Oconto, Manitowoc or Sheboygan counties are invited to enter up to two works. Applications are accepted online only through ArtCall.org beginning Monday, June 22. The submission deadline is Friday July 31, 2020 at 5pm. Submission information, including the prospectus and link to the online submission portal, is available on the Museum's website at millerartmuseum.org.
The exhibition, which is open to artists at all career levels from emerging to established professionals, highlights contemporary work by Northeast Wisconsin visual artists who reside in a six-county radius. Artists selected for inclusion in the exhibit will be notified Friday, August 7.
The 45th Juried Annual exhibition is scheduled to be on display in the main gallery of the museum from Saturday, August 29 through Monday, October 19. The Museum is closely monitoring developments with the Coronavirus (COVID-19); please continue to check the museum's website at www.millerartmsueum.org and social media channels, where updates are posted. While the Museum remains closed at this time, we are hopeful to be open for this exhibition, if not before. In the event that turns out not to be the case, the exhibition will be presented by virtual means using the Museum's new virtual galleries, recently created in partnership with Curat10n.
(Sturgeon Bay, WI)—May 21, 2020—The Miller Art Museum is pleased to announce a new initiative—weekly window exhibitions in downtown Sturgeon Bay. The first rotating exhibition, 'The Still Life: Storytelling & Secret Messages,' debuted on Thursday, May 21, 2020, and highlights a selection of works from the Museum's permanent collection, curated by Helen del Guidice, along with two still life displays by local artists Lynn Gilchrist and Liz Maltman. The public is encouraged to bring a sketch pad or easel, being mindful of social distancing guidelines, to be inspired. Drive-up and sidewalk viewing of this exhibit, along with those forthcoming, is encouraged. The initiative, while evolving, will initially highlight works from the Museum's permanent collection—placing art prominently in the heart of Sturgeon Bay's downtown corridor.