August 27, 2021—The Miller Art Museum in downtown Sturgeon Bay is pleased to present a set of free discussions featuring Dustin Renwick, Story Content Editor for National Geographic Partners and Erika Skogg, Explorer with National Geographic on Thursday, September 9. The two-part series, part of the Museum's Second Thursday Educational Program, is scheduled to take place at 10:30am and 6pm in the main gallery of the Miller Art Museum. In addition to the in-person programming, both events will be available virtually via the Zoom and are free and open to the public.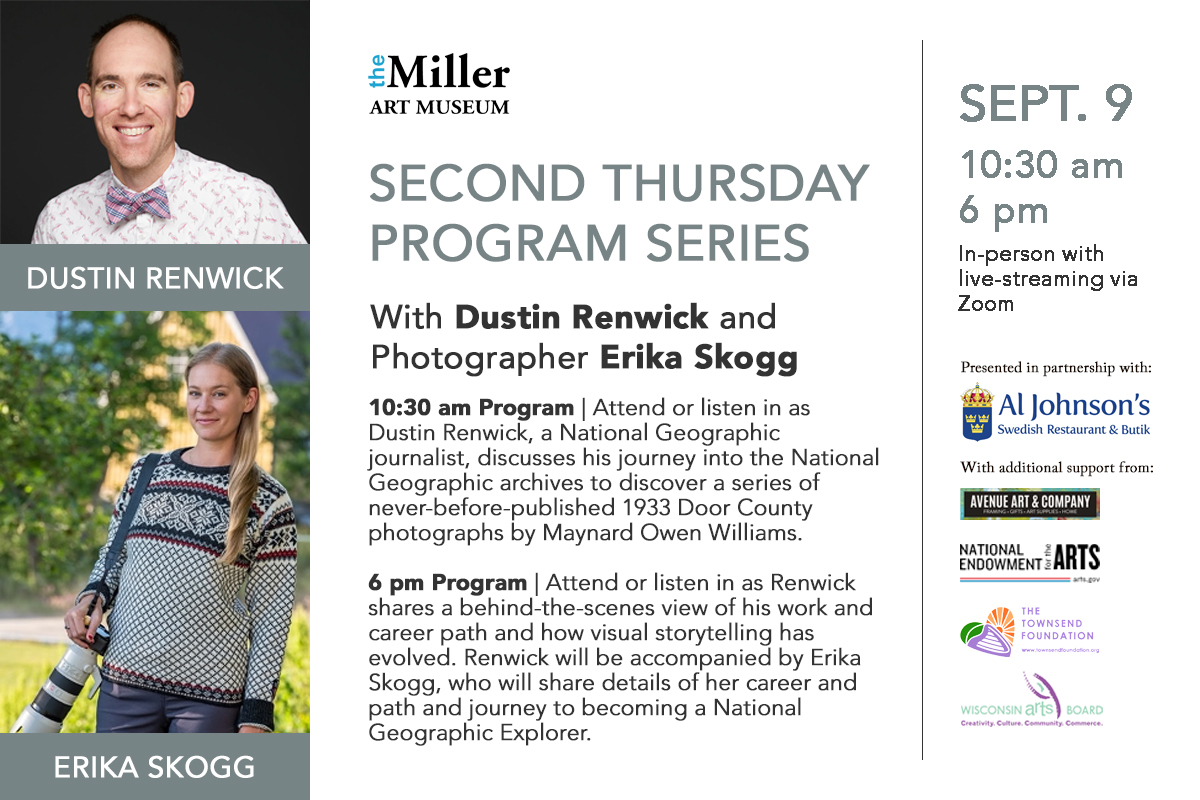 In the first program, Renwick will discuss his journey into the National Geographic archives to discover a series of never before published 1933 photographs by journalist Maynard Owen Williams, which focuses on Door County's Cherryland agritourism.

The second of the 2-part program will feature Renwick giving attendees a behind the scenes view of his role as a National Geographic Storyteller, exploring how his career has developed, and how visual storytelling has evolved. Renwick will be accompanied by Erika Skogg where she will share details of her career and path and journey to a National Geographic Explorer.

"We are thrilled to have the opportunity to bring Dustin to Sturgeon Bay to share his vast knowledge and expertise with our community," says Curator Helen del Guidice. "Whether you are interested in the history of Door County's agritourism or simply love a great story, it's such an extraordinary opportunity for our community to have this one-on-one time with someone as accomplished as Dustin Renwick. I encourage everyone who has an interest in history, is passionate about photography or aspiring to be a professional photographer to attend."

Both events will offer the audience a question-and-answer period after the discussion.
Dustin Renwick is a journalist and triathlete based in the District of Columbia. He focuses on stories about sports, science, and history, especially from the Midwest and Great Lakes. His "aptitude for tackling impossible problems and delivering results" means he handles deadlines with clarity and grace.
Erika Skogg is a photographer, educator, and National Geographic Explorer with experience documenting cultural stories from the United States to Morocco, Greenland, Iceland, Colombia, and beyond. Born and raised in Wisconsin, Erika's most recent photographic research is closer to home and driven by the desire to immerse, understand, and visually preserve the region's Scandinavian and Nordic culture. In 2018, Erika received a National Geographic Storytelling Grant for her project "Scandinavian American" to document the Upper Midwest's cultural connections to its emigrant history and promote an interest in one's own genealogy.

This programming is being presented in conjunction with Scandinavian American: Photography by National Geographic Explorer Erika Skogg, on display in the galleries and the second floor Ruth Morton Miller Mezzanine through Monday, September 20, 2021.