July 16, 2021—The Miller Art Museum in downtown Sturgeon Bay is pleased to partner with Al Johnson's Swedish Restaurant in presenting Scandinavian American: Photography by National Geographic Explorer Erika Skogg. The exhibition is scheduled to open to the public on Saturday, July 24 at 10am and an in-person opening reception will be held from 5 – 6:30pm. The event marks the Miller's first opening reception since the pandemic began in early 2020.
Scandinavian American is a photographic essay comprised of 24 photographs by Door County, WI, born National Geographic Explorer Erika Skogg. The photographs depict the lifestyle, celebrations and ethnic traditions of Scandinavian-American communities taken throughout the Midwest to visually preserve Scandinavian-American culture; a project funded by the National Geographic Society.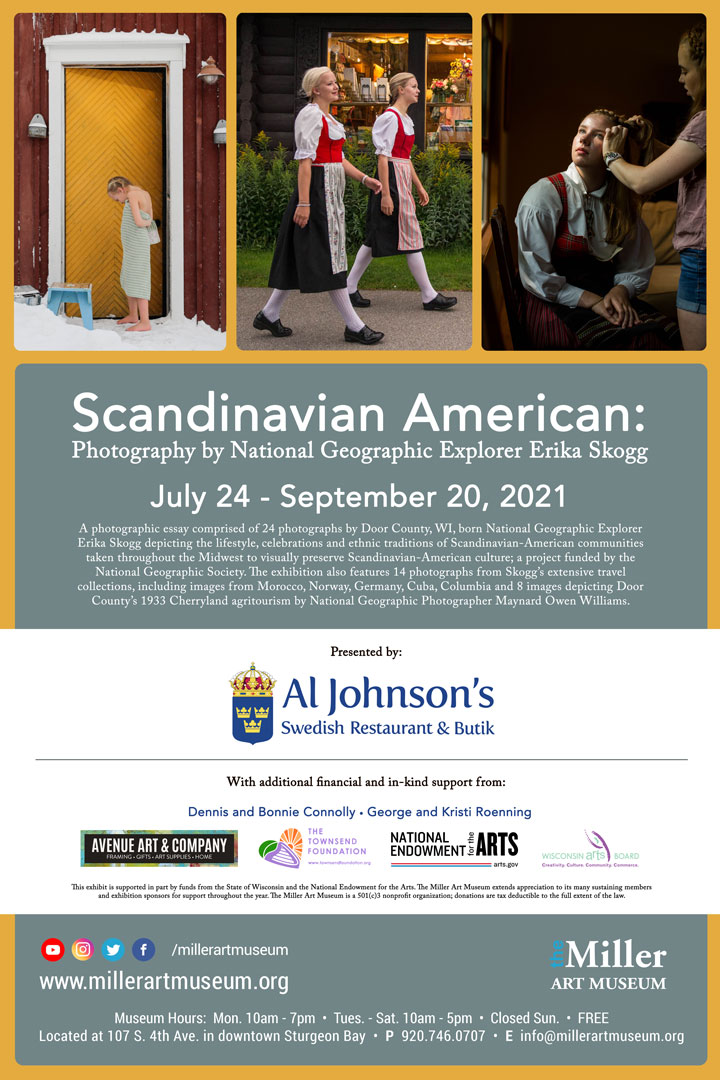 "This is an extraordinary opportunity for the museum and the Door County community to come together, celebrate and learn about Scandinavian culture," says Elizabeth Meissner-Gigstead, executive director. "We have so much gratitude for all who have helped realize the exhibition, especially Door County's most legendary Scandinavian icon, Al Johnson's Swedish Restaurant, and have no doubt that visitors will connect to Erika's images in a very personal way, given our deep Scandinavian roots."
Together with the Scandinavian imagery, the exhibition also features 14 photographs from Skogg's extensive travel collections, including images from Morocco, Norway, Germany, Cuba, Colombia, and 8 images depicting Door County's 1933 Cherryland agritourism by National Geographic Photographer Maynard Owen Williams. The Miller Art Museum was granted permission from the National Geographic archives to publish and exhibit Williams' images, never before published and never before been seen by the public.
Erika Skogg is a photographer, educator, and National Geographic Explorer with experience documenting cultural stories from the United States to Morocco, Greenland, Iceland, Colombia, and beyond. Born and raised in Wisconsin, Erika's most recent photographic research is closer to home and driven by the desire to immerse, understand, and visually preserve the region's Scandinavian and Nordic culture. In 2018, Erika received a National Geographic Storytelling Grant for her project "Scandinavian American" to document the Upper Midwest's cultural connections to its emigrant history and promote an interest in one's own genealogy.
Represented by The National Geographic Image Collection, Skogg's images highlight commonalities of the human experience and ignite a genuine interest in our connection to one another. Her photographic work through the Scandinavian-American project will introduce the public to the incredible Scandinavian and Nordic communities from Kansas to Upper Michigan, and back home to Door County.
Maynard Owen Williams (1888 - 1963) served as the first National Geographic foreign correspondent, beginning in 1919. He estimated that he traveled 625,000 miles in his life in nearly every possible mode of transportation. His story that included Door County was published in the April 1934 issue of the magazine.
"It's an incredible confluence, when two National Geographic photographers nearly 100 years apart, with such extensive world-wide portfolios, focus their lenses on Door County and the culture that makes our place so unique," says Helen del Guidice, curator of exhibitions. "This relentless passion in pursuit of documenting this place is something relevant to the broader public and we hope this exhibit will inspire and inform their stories."
Featured in tandem on the Ruth Morton Mezzanine are new acquisitions to the permanent collection by Door County photographer Suzanne Rose. A selection of 8 photographs from Rose's series entitled Dear One depict her daughter as she grows year by year. The photographs are designed and created as a collaboration of the mother and daughter, and focus on the daughter's experience of her own age.
Rose is an artist based in Northeast Wisconsin. She began her studies at the School of the Art Institute in Chicago as a painter, studying multimedia and leaving to create a design partnership that ultimately transitioned into a solo pursuit of fine art photography. Photographically, Suzanne remains close to her Midwestern roots by making thematic bodies of works of family, community, and the environs thereof – exploring memory and metaphor, purpose and place.
In addition, by special invitation, three local artists have interpreted vintage fabrics by Carol Gresko Studio with an installation of spontaneously draped designs. Designer Peter Ciesla of Bazyli Studio (Baileys Harbor), Printmaker Christine Style (Green Bay) and Designer Alicia Mulliken (Ephraim) each bring their expertise and imagination to the installation inspired by Gresko's designs. The fabrics, which are 2020 acquisitions to the permanent collection, feature whimsical, Door County-themed patterns including Growing Apple Sauce and The Boynton Chapel.
Scandinavian American: Photography by National Geographic Explorer Erika Skogg will be on display from July 24 through September 20, 2021. The exhibition has been made possible with financial support from presenting sponsor Al Johnson's Swedish Restaurant with additional financial and in-kind support from Avenue Art & Company, Dennis and Bonnie Connolly, George and Kristi Roenning, The Townsend Foundation, the Wisconsin Arts Board with funds from the State of Wisconsin and the National Endowment for the Arts.
RELATED EXHIBITION PROGRAMS
---
Thursday, September 9, 10:30am | In-Person Second Thursday Program Series Featuring Dustin Renwick, Journalist and Story Content Editor for National Geographic Partners
In a 2-part special edition of The Studio Door, Miller Art Museum invites the public to attend as Curator Helen del Guidice sits down in conversation with Dustin Renwick where he will discuss his journey into the National Geographic archives to discover a series of never before published 1933 photographs by journalist Maynard Owen Williams, which focuses on the Door County Cherryland agritourism.

Thursday, September 9, 6pm | In-Person Second Thursday Program Series Featuring Dustin Renwick, Journalist and Story Content Editor for National Geographic Partners
This second program in a 2-part edition of The Studio Door will feature Renwick giving attendees a behind the scenes view of his role as a National Geographic storyteller, exploring how his career has developed, and how visual storytelling has evolved.
---
Both events will offer the audience a question and answer period after the discussion.
Renwick is a journalist and triathlete based in the District of Columbia. He focuses on stories about sports, science, and history, especially from the Midwest and Great Lakes. His "aptitude for tackling impossible problems and delivering results" means he handles deadlines with clarity and grace.