May 20, 2022—The Miller Art Museum in downtown Sturgeon Bay is set to unveil three new exhibitions on Saturday, May 28: For the Love of Chardin in the first-floor main galleries, Until Next Time featuring work by artist Elysia Holland Michaelsen, and Still Life: Storytelling and Secret Messages featuring works from the museum's permanent collection on the Ruth Morton Miller Mezzanine. The opening reception will run from 5pm - 6:30pm and is free and open to the public.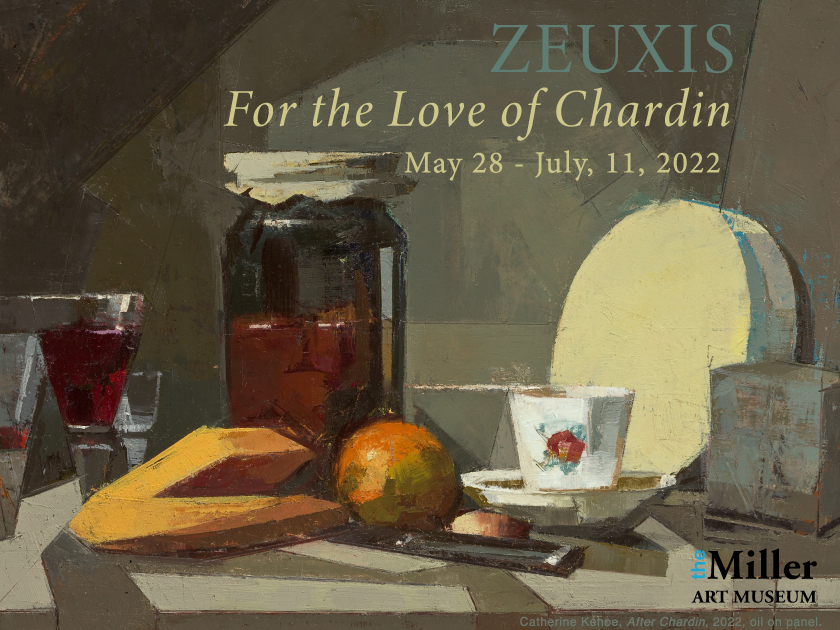 For the Love of Chardin presents 38 paintings from the New York based artist association, Zeuxis. An association of still life painters, Zeuxis selects a new topic of contemplation annually, which serves as inspiration to members' interpretation. This year's works are inspired by one of the great masters of the Baroque and Rococo periods, Jean-Baptiste-Siméon Chardin (1699 - 1779)
Chardin, born the son of a carpenter in Paris, is widely considered one of the great painters of the 18th century and was presented at the Académie Royale de Peinture et de Sculpture in Paris as a painter of 'animals and fruits.' While quite successful with his genre scenes, which exhibited a dreamlike naturalness, his still life paintings were considered revolutionary, with the uncanny ability to catch nature in the act with a near spiritual quality. Chardin's contemplation of overall composition and the optical relationships of contour was admired and studied by artists such as Manet, Cézanne and Soutine.

(Image Credit: Daniel Dallman, Chardin's Green Card. Phyllis Floyd, Oh Chardin #1. Clara Shen, After Chardin's Le Raie.)
"Chardin's eye for the density of color was sublime. His hues continuously transformed light into weight, and to this end he pragmatically selected objects with the most sensuously weighted color sequences, especially those that confounded space", writes contributing artist and Zeuxis member John Goodrich, one of the contributing artists from Zeuxis, in his essay, "Chardin: A Violent Modesty."
Zeuxis was founded in 1994 in the New York City loft of member Phyllis Floyd along with several of her colleagues. She writes, "In the 1990s I began to assess the condition of still life painting in the climate of the postmodernist art world. Prospects looked bleak. It was time to rally my forces, and I drew in still life painters one by one with the objective of mounting group exhibitions''.
Zeuxis exhibitions have appeared in over 50 commercial galleries, museums, and college exhibition spaces across the country with reviews in The New York Times, The New York Observer, The New York Sun, and numerous other publications.
"Inviting Zeuxis to exhibit at the Miller Art Museum is an opportunity for artists to learn from the model of what an art association can accomplish," says Curator Helen del Guidice.
Visitors to the exhibit will see how Zeuxis members have presented an analysis and tribute to one of history's most accomplished and revolutionary still life painters.
"I think this exhibition is a great opportunity to contemplate the power of still life. Having originated in ancient Egyptian tomb painting, the genre has managed to repeatedly evolve and make its way through the ages, remaining relevant today," says Curator Helen del Guidice.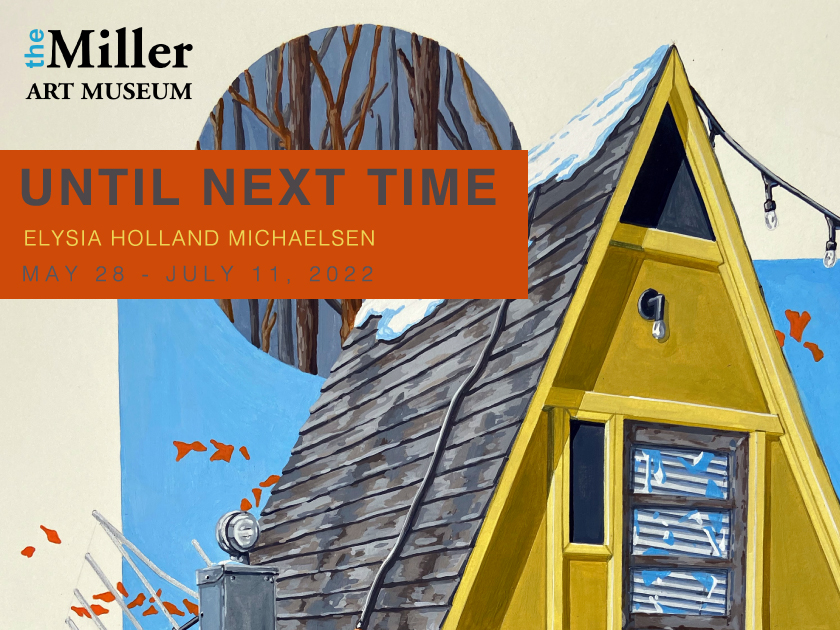 Until Next Time by Elysia Holland Michaelsen (Fish Creek) and featured on the Ruth Morton Mezzanine presents 6 paintings which are focused on recreational areas in that awkward moment between what has happened and what will happen again. Imagery of campgrounds in November, putt-putt courses in February, and ski hills in July are distilled, altered, and recombined to create compositions that are at once static and emotionally charged.
"Elysia's paintings have the uncanny ability to be both recognizable landscapes and evocative still life simultaneously." Says Curator Helen del Guidice.
Michaelsen is the Director of Education and Residencies at Peninsula School of Art in Fish Creek and in addition maintains an active studio practice.

(Image Credit: Alicia Czechowski, Fish Head. Elysia Holland Michaelsen, Welcome Wagon. Aaron Bohrod, Fish and Ships.)
Still Life: Storytelling and Secret Messages, also on the Ruth Morton Mezzanine, features 14 selections from the permanent collection illustrating an art-historical presentation of the same title scheduled for Thursday, June 9 at 10:30am at the Miller Art Museum. The presentation by Curator Helen del Guidice will highlight specific works from the museum's permanent collection as they relate to still life master works.
For the Love of Chardin, Until Next Time, and Still Life: Storytelling and Secret Messages will be on display through July 11. The museum is located at 107 S. 4th Avenue inside the Door County Library in downtown Sturgeon Bay. Admission is free of charge but free will donations are encouraged; an elevator is available to access galleries on the Ruth Morton Miller Mezzanine. For more information about current exhibitions or the museum, call (920) 746-0707 or visit www.millerartmuseum.org.
EXHIBITION – RELATED PROGRAMMING
Friday, May 27 from 4:30PM – 5:30PM: Museum Members Pre-View Tour Join Miller Art Museum Curator Helen del Guidice in the main gallery for a sneak peek at the three exhibitions before their opening to the general public on Saturday. This tour is a special offering for Miller Art Museum members. Visit https://millerartmuseum.org/membership to become a member today!
Friday, June 10 from 11AM – 12PM: ART/SPEAKS a free writing lab, led by poet Francha Barnard in partnership with Write On, Door County. This group of writers and poets create literary works in response to the artwork on display in the museum. The event is free and open to the public. All level writers are welcome to attend and spend the hour connecting with themselves and the works on display.
Thursday, June 9 from 10:30AM – 11:30AM: Still Life: Storytelling and Secret Messages Join Curator Helen del Guidice at the museum as she takes the audience on an illuminating journey, complete with a surprise ending, that follows the still life through time. See how the art of visual storytelling through arranged objects has endured and evolved throughout history, how it is utilized in different art movements, and remains relevant today. The event is free and open to the public.