April 15, 2021—The Miller Art Museum in downtown Sturgeon Bay is set to unveil a new exhibition in its main galleries on Saturday, April 24, 2021. Mike + Schomer: Cows, Color and Camaraderie celebrates the friendship of Mike Judy and the regionally celebrated artist Schomer Lichtner (1974 – 2006) through their colorful and eccentric works. Featured in the exhibition are 45 works, comprised of 24 by Judy and 20 by Lichtner, with delightful surprises throughout from elegantly posed ballerinas to gritty jazz musicians and cigarette smoking fish to a cast of curious cows. In lieu of an opening reception, a May 13 program will feature Judy in conversation with Miller Art Museum Curator of Exhibitions Helen del Guidice; the program is set to broadcast live through the Museum's Facebook at 6pm.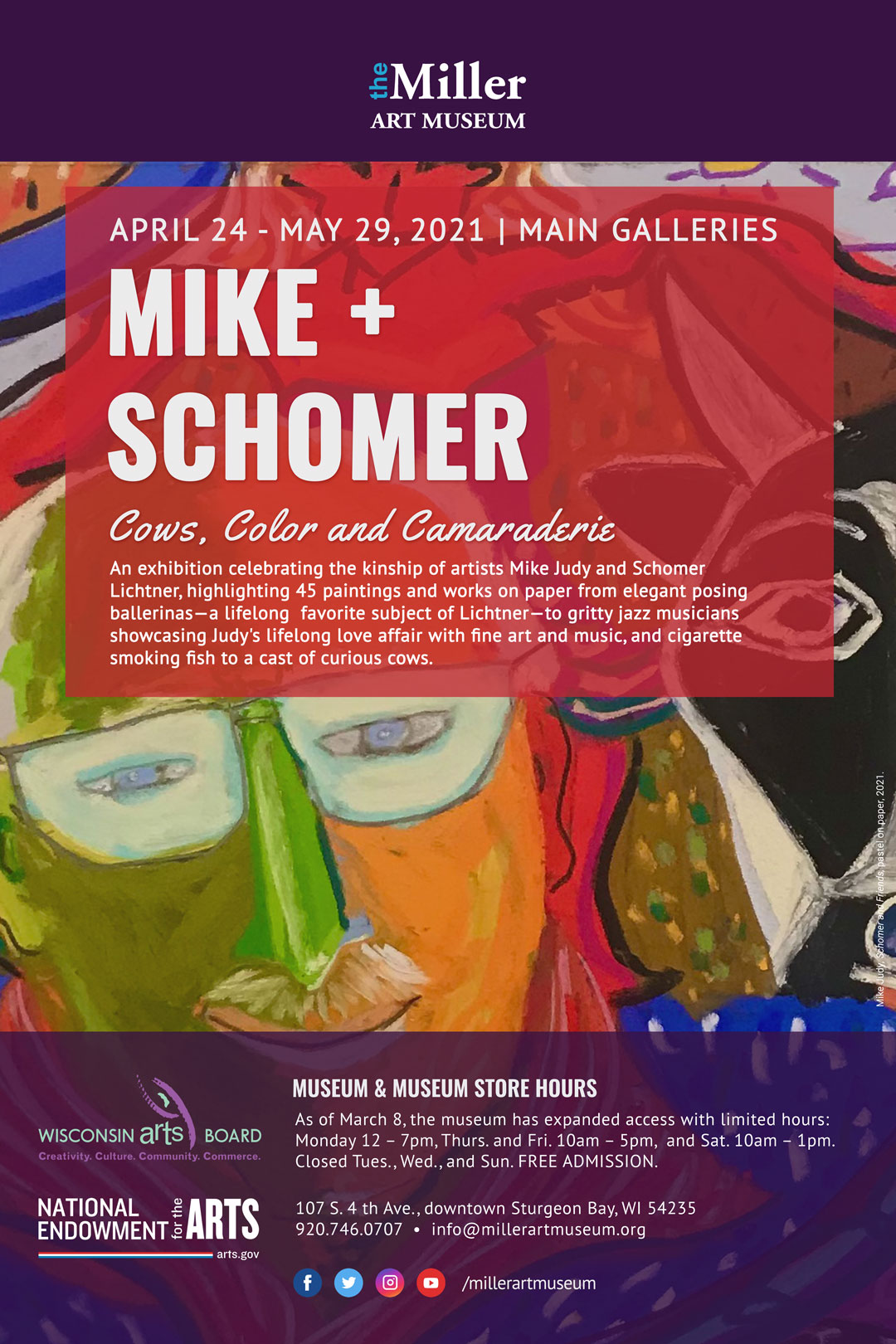 Del Guidice has taken a retrospective approach to the presentation of Judy's body of work, which will also include a selection of new works—auto-biographical pastels on paper as portrayed in My Birth and The Church Song Nightmare, which are self-effacing and comical depictions of cornerstone moments in the artist's life and portraits of jazz musicians, aquatic landscapes and his 2021 portrait of Lichtner, titled Schomer and Friends, that illustrates Lichtner's signature ballerinas and cows.

Judy, a Door County artist, has distinguished himself from others working in a more traditional manner, stepping aside from the norm of landscapes, plein air and regional subjects in pursuit of intertwining his multi-disciplinary talents. Having studied both art and music, and participating as a musician in bands for most of his adult life, Judy continues to combine his two passions.

"Judy's pastels are evocative and approachable. The colorful scenes immerse the viewer in a story-in-progress that is fun and relatable, but most importantly, invites the viewer to bring their own imagination," says del Guidice. "Of the many things Mike and Schomer have in common is joie de vivre—'joy for life'—and that rings true in comparing their works."

Complementing Judy's body of work in the main galleries are permanent collection works by Milwaukee artist Schomer Lichtner (1905-2006). Lichtner was a much-celebrated and prolific painter and printmaker who long served as the official artist of the Milwaukee Ballet. Along with his wife Ruth Grotenrath, also heavily represented in museum's permanent collection, the couple were major players in the Milwaukee art scene and have often been referred to as Milwaukee's 'first couple of painting;' they are widely regarded as some of the most prolific and important Wisconsin artists. Artworks in the Schomer Lichtner collection were donated to the museum in 2006, 2009 and again in 2010 by The Schomer Lichtner Trust and Kohler Foundation, Inc. and were largely unframed. As part of del Guidice's ongoing work with the permanent collection, 15 of the 20 works by Lichtner on display have been newly framed.

"It has been my priority to frame as many of the unframed works in the collection as possible this year so that they can be activated for exhibition when the perfect moment arises," del Guidice continued. "One of the
benefits of a collection is the numerous artists it represents and the body of works as a whole that provide a platform for a wide variety of conversations that can then be paired with visiting works to provide further context and interject new ideas. I want to make sure that every piece is prepared for that opportunity."

"Prioritizing the permanent collection and it's needs has been a priority for the organization—an outcome of the museum's most recent strategic plan," says Executive Director Elizabeth Meissner-Gigstead. "We were specifically looking for an individual with the enthusiasm and unique skill set in our recent change in curatorial leadership to help lead this and are we are excited with the progress we're making in this area with Helen's leadership."

The museum is in the early development stages of a long-term initiative to create a vehicle to provide funding for framing to ultimately safeguard them into the future.

"I thought the Lichtner collection was a great place to start the framing initiative," says del Guidice. "When paired with the works by Mike Judy, the Lichtner collection becomes more than a great body of work. Suddenly, they are telling the story of a friendship, representing an era of the Miller's history and passing the torch from elder master to a next-in-line generation of accomplished artists."

Featured on the Ruth Morton Miller Mezzanine are new works by celebrated Door County artist Franne Dickinson, an ad memoriam display of works by longtime Ephraimite Karsten Topelmann, and newly framed works by Gerhard CF Miller's mentor, Roy Mason, from the permanent collection.

At the age of 94, Dickinson actively and enthusiastically continues to paint her signature vases abundant with floral arrangements. Also included in the display is a tabletop still life, portraits of the women of Darfur and selections from the Museum's permanent collection.

Five works by Karsten Topelmann (1929-2021), courtesy of Hanseatic Gallery in Ephraim, will be on display along with a selection of works from the Museum's holdings in an ad memoriam exhibition celebrating the artist's life and prolific talent. Born in Bavaria and educated at the Royal Academy of Art, Karsten and his wife Ellen settled in Ephraim and opened Hanseatic Gallery in 1971, realizing their dream of living in Door County.

Rounding out the mezzanine are 15 newly framed collection works, miniature sketches by Miller's mentor Roy Mason. The works are part of a larger collection of 65 drawings done by Mason in sketchbooks using the plein air technique that date between 1930-1950. Mason was an accomplished watercolorist who was a recipient of the prestigious Gold Medal of Honor awarded to him by the American Watercolor Society. Museum founder Gerhard Miller sought out critique from Mason in the 1940s, which began a lifelong friendship and mentorship that lasted until Roy's passing in 1972. A selection of large-scale watercolor and egg tempera paintings by Mr. Miller and his cherished mentor Roy Mason are featured in the upper-level Gerhard CF Miller Gallery.

Mike + Schomer: Cows, Color and Camaraderie has been funded in part by the Wisconsin Arts Board with funds from the State of Wisconsin and the National Endowment for the Arts; it will be on display through Saturday, May 29, 2021.