(Sturgeon Bay, WI)—May 8, 2020—The Miller Art Museum is pleased to present the 46th Annual Salon of Door County High School Art (SoHSA) exhibition of student artwork opening in virtual format Monday, May 11, 2020. Presented in collaboration with Peninsula art educators, the exhibition marks 46 years of the Museum showcasing artwork created across a broad array of media by students residing throughout the Door County Peninsula. This year's exhibition features artistic contributions from 104 students amounting to 186 original works from five partnering public high schools: Gibraltar, Sevastopol, Southern Door, Sturgeon Bay and Washington Island.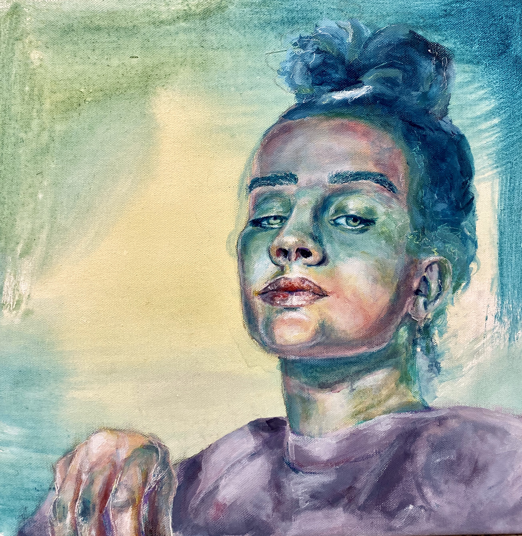 The Museum partnered with the London-based firm Curat10n to design and build a virtual gallery space that mirrors—for the most part—the Miller Art Museum. The experience will allow patrons to flow through the Museum as they would if they were physically present—they will be greeted with introductory and informational text followed by groupings of work by each school on both the main floor and mezzanine levels—with only slight variations to the actual space.
"Creating a virtual exhibition of the quality typical of Miller exhibitions was important as we faced the realities and foreseeable lack of accessibility amid the COVID-19 pandemic," said Elizabeth Meissner-Gigstead, executive director. "We've deviated from the exhibition schedule as planned, however, the virtual exhibition honors the students and their work in a way they can and should be proud. The Salon is beloved by the community and we are excited about the opportunity to reach a wider audience and share the successes of these students in a time where it is needed more than ever."
The exhibition, in its online format, invites all—students, families, guests and the general public—for viewing from millerartmuseum.org. In lieu of having to cancel the opening reception and awards ceremony, the Miller Art Museum, with the support of exhibition sponsors, will award Certificates of Participation to all student artist artists along with five Awards of Excellence and five Honorable Mentions, all of which are cash awards. The support received from the community in the form of exhibition sponsorships make this platform for honoring the accomplishments of young artists in our community a reality. "We value our sponsor partnerships tremendously, Gigstead continued. "Not only does it allow us to celebrate the students' efforts, but also that of the outstanding art teachers who work with them day in and day out."
This year's multi-media exhibit features original artwork from the 2019-20 academic year—drawing, painting, photography, digital media, and ceramics (presented in two-dimensional form)—by students from Gibraltar High School, Sevastopol High School, Southern Door High School, and Sturgeon Bay High Schools.
"There is something very special about artwork made by young people as it captures their raw ideas," says Curator of Exhibitions Helen del Guidice. "It Is equally special for the community to be able to see those ideas, not only to support our local students in their creative endeavors, but to experience inspiration from them. While not all of these students will grow up to be professional artists, it is clear that a new generation of Door County artists is among us. Young people offer a unique perspective of our world, and it should always be considered our privilege to listen, watch and learn from them."
The 46th Annual Salon of Door County High School Art has been made possible with financial support from John and Kathy Campbell, Dennis and Bonnie Connolly, Miriam Erickson, the Family of Glenn Gerber, the Jacksonport Women's Club, Michael and Barbara Sweeney, Carl and Ruth Scholz, the Townsend Foundation with additional in-kind and financial support from Third Avenue Playhouse and the Wisconsin Arts Board with funds from the State of Wisconsin and the National Endowment for the Arts. The exhibit is available for viewing through Monday, July 6, 2020 through the Museum's website at www.millerartmuseum.org where specific viewing instructions are available.
The Museum and Library remains CLOSED to the public due to COVID-19 pandemic. For more information email or call (920) 746-0707. Image credit (above): Claire Tellstrom, Self Portrait, acrylic, Sturgeon Bay High School, grade 12.