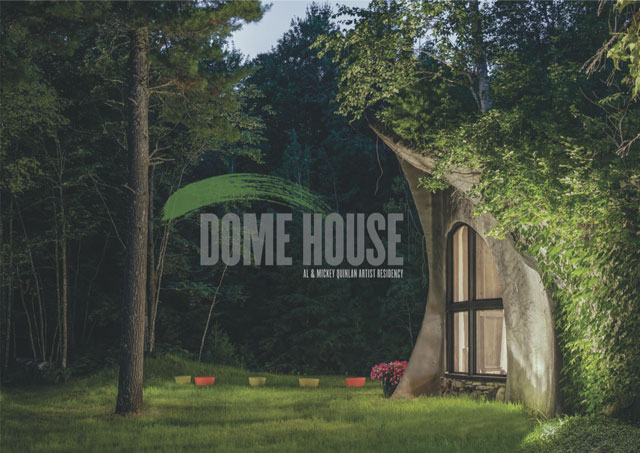 Deadline extended! Applications accepted until May 15, 2022! Learn more here.
---
February 25, 2022—The Miller has announced it is accepting applications for the 2022 Dome House Al & Mickey Quinlan Artist Residency. Midwest artists residing in Illinois, Indiana, Iowa, Kansas, Michigan, Minnesota, Missouri, Nebraska, North Dakota, Ohio, South Dakota and Wisconsin can apply online at https://www.domehouseart.org/apply; the deadline to apply is Saturday, April 30, 2022.
The application-based residency invites emerging and mid-career artists to Wisconsin's Door Peninsula to reside for an 8-week period at the iconic Dome House. The program, which is scheduled for August 15 - October 9, 2022, aims to give artists working in the fine art mediums of drawing, painting, printmaking, photography and other mediums the space and support to create work in an inspiring and unique location, in addition to providing opportunities for public access to an artist at work through supplemental programming and educational content for the community.
"Our Artist Selection Committee couldn't have chosen more fitting artists for the launch of the program last year," says Miller Art Museum Executive Director Elizabeth Meissner-Gigstead. "Fiber artist Amy Usdin (MN) and painter Ariana Vaeth (WI), brought so much heart, dedication and professionalism to their residencies, both leaving an indelible mark on our creative community. It evidences the impact of an artist's presence in shaping and influencing the artistic landscape and development and growth of artists in the area."
"I can't imagine a more significant experience," says Amy Usdin. "Professionally, the credibility of having a museum-sponsored residency is a milestone—and I was really impressed with the heart and leadership of the Miller Art Museum. Through this residency, I was able to clarify the narrative for an ongoing series and envision new directions for my work. It helped me think more expansively; instead of sitting in my studio working from faded memories, I could work in the moment as a response to my surroundings. . . The community—neighbors, artists, and the Quinlan family—were welcoming and gracious. I left thinking of it less as a Dome House than a Dome Home."
One artist will be selected for the 2022 program, who will be awarded a monetary stipend of $500 to support the artist's creative endeavors while in residence. For guidelines or more information about the residency program or the Dome House, visit https://bit.ly/317vwCo.