(Sturgeon Bay, WI)—December 7, 2018—The Miller Art Museum in downtown Sturgeon Bay today announced that it is a recipient a 2018 Green Bay Packers Foundation grant. The Foundation on Wednesday awarded $800,000 to 230 civic and charitable groups throughout the state of Wisconsin. This grant will support the Community Mural Project, a public art project in the city of Sturgeon Bay.
Community Mural Project committee members Elizabeth Meissner-­Gigstead, executive director of the Miller Art Museum, and Mary Cram were one of 213 guests at a luncheon held in the Lambeau Field Atrium which honored the outstanding efforts and services performed by each of the organizations. The Packer's 2018 grant cycle focused on organizations that will direct the funds toward the need areas of arts and culture, athletics and education causes.
"The $3,125 Green Bay Packers Foundation grant will ignite our fundraising efforts for the creation of a 2,684 sq. ft. mural in the heart of the city's Steel Bridge Creative District," says Meissner-­Gigstead. The goal of the project is to create a public mural, accessible free of charge by all, that would enhance Sturgeon Bay's colorful history and connect with the city's existing maritime infrastructure.
"We're proud to recognize these outstanding recipient organizations, who are all doing incredible work in our communities," Packers President/CEO Mark Murphy said at the event. "As a community-­owned team, we are inspired by the efforts of these organizations and the positive impact they have on those that they serve."
To donate or learn more about the project, please visit the Community Mural Project's Facebook page online or call the Miller Art Museum at 920.746.0707.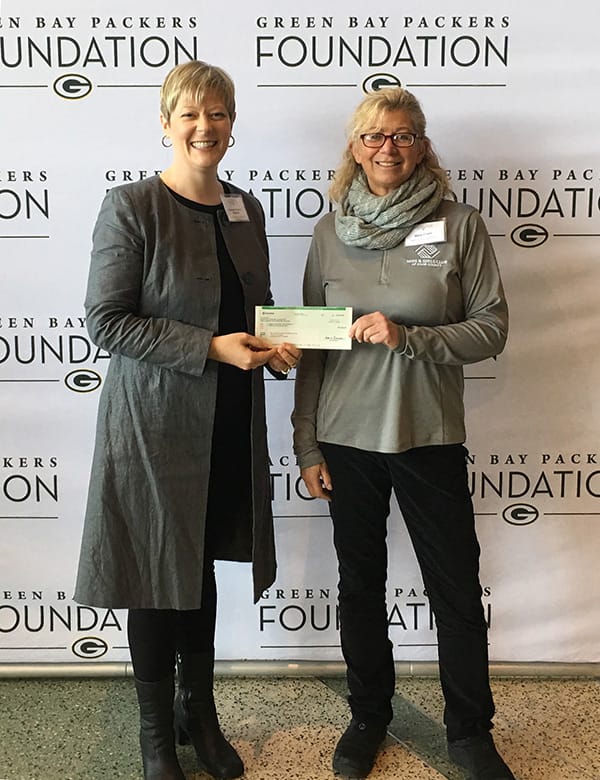 Image Information:
Miller Art Museum Executive Director Elizabeth Meissner-­Gigstead and Community Mural Project Committee Member Mary Cram receiving their award at the Green Bay Packers Foundation Luncheon on Wednesday, December 5, 2018 at the Lambeau Field Atrium in Green Bay.