June 16, 2022—The Miller Art Museum in downtown Sturgeon Bay is joining forces with fellow members of the Door County Heritage Alliance to present History Days. A weeklong event celebrating the rich heritage of Door County! This week is packed full of historically relevant art-centered free programming happening from Monday, June 20 through Friday, June 24.
"We are excited to finally have the capacity of our satellite space, M3, where we can offer these additional engaging programs for our creative community here in Door County," says Education and Outreach Coordinator Marie Kimball. "For the Love of Chardin is an exhibition, currently on display, from which painters can draw inspiration for their own work based on the variety of techniques and compositions on display and I see History Days as a vehicle to push ourselves even further forward as a resource in service of the vibrant artistic community here," she continues. "Artists of the past, present, and future."
This weeklong schedule of events for History Days at the Miller include: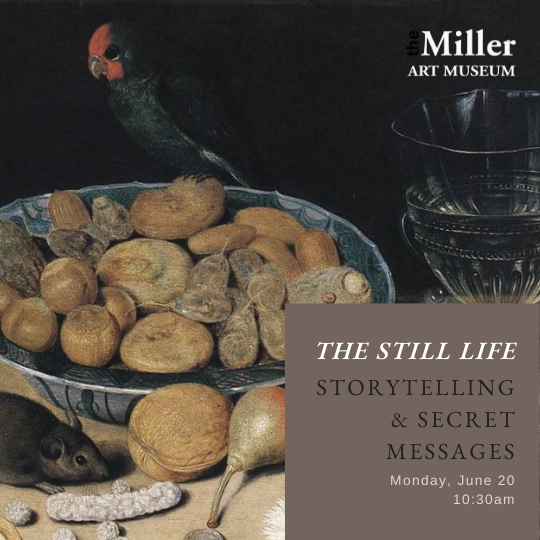 Monday, June 20
Still Life: Storytelling & Secret Messages
10:30am – 11:30am | Miller Art Museum: 107 S. 4th Avenue, Sturgeon Bay
Are you looking to create deeper conversations within your social art circle? Refresh your context of the still life throughout history and show off your knowledge at the next opening you attend. Join Curator Helen del Guidice as she takes you on a journey of the still life through time. See how the art of visual storytelling through arranged objects has endured, been explored by art movements throughout history and remains relevant today.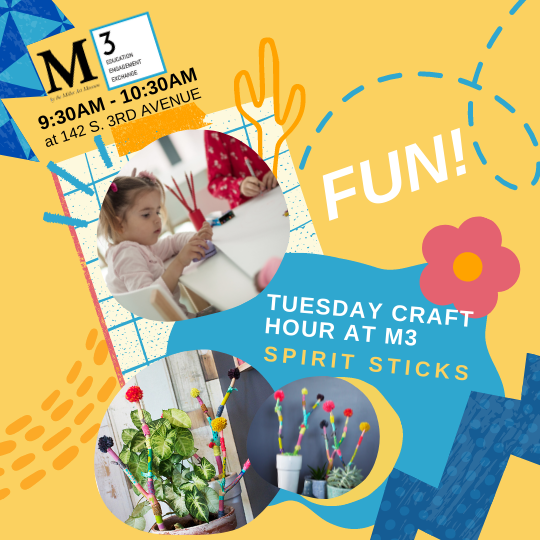 Tuesday Craft Hour: Spirit Sticks
Tuesday, June 21
9:30am – 10:30am | M3: 142 S. 3rd Avenue, Sturgeon Bay
Creativity isn't just for your weekend anymore! Join us as you take this humble item found in nature and use your imagination to show off the beauty inside of you, your inner spirit. What will you create from this simple sick? A garden planter marker, a baton to lead a parade, or a walking stick for your next great adventure? Anything is possible. Paint and embellishments will be provided. This event is free and open to the public. All ages are welcome.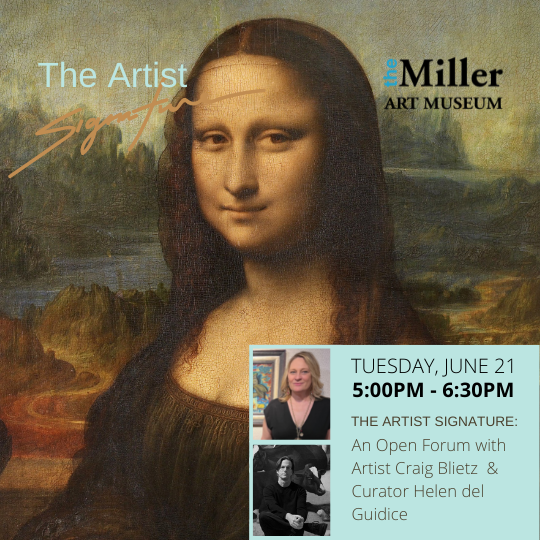 The Artist Signature: An Open Forum with Craig Blietz
Tuesday, June 21
5:00pm – 6:30pm | M3: 142 S. 3rd Avenue, Sturgeon Bay
The artist's calling card is your signature. As an artist your signature claims ownership, gives additional value, and marks your piece as complete.
Don't tell that to Cubist Master Georges Braque. He began the practice of not signing artwork, stating that "a painter's personality should be kept out" of a work of art.
Where do you sign your art work and why? Join Curator Helen del Guidice and professional artist Craig Blietz as they lead you through a fun-filled discussion on the complicated topic of the artist signature. This is an open forum discussion, participants are asked to bring your questions, stories, and fellow artists along for the conversation. Not to be missed!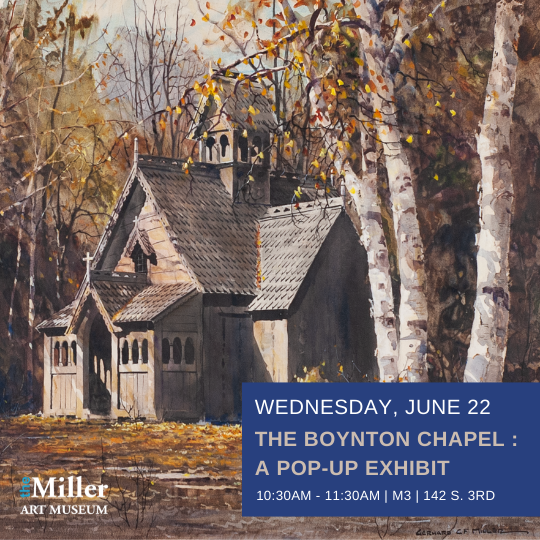 The Boynton Chapel: Pop-Up Exhibit
Wednesday, June 22
10:30am – 11:30am | M3: 142 S. 3rd Avenue, Sturgeon Bay
Winifred Boynton created the Boynton Chapel as a way of perpetuating peace in the world during the Interwar Period. Beautifully rendered detailed drawings by Boynton, from the Miller Art Museum's permanent collection, will be on display to give visitors a closer glimpse into Boynton's meticulous process in creating this legendary Door County landmark. Join us and share your own stories about these two legends, Winifred Boynton and the Boynton Chapel.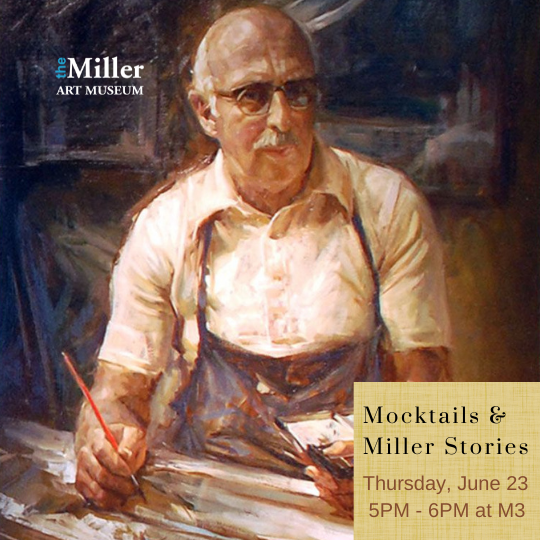 Mocktails & Miller Stories
Thursday, June 23
5:00pm – 6:00pm | M3: 142 S. 3rd Avenue, Sturgeon Bay
Join us for a beverage during this social hour dedicated to the beloved 'Dean of Door County Artists' Gerhard CF Miller! You are invited to socialize with fellow art enthusiasts and celebrate the museum's founder, share your favorite stories, and check out some rarely seen family photos from the Miller archives. This event is free and open to the public.
What's My Pride? Project Celebration and Selfie Station
Friday, June 24
1:00pm – 5:00pm | M3: 142 S. 3rd Avenue, Sturgeon Bay
What are you proud of? Your talent, your friends, or maybe it's your community? Whatever it is for you, share it, chalk it out and document it at the What's My Pride? Project selfie station. Not sure what to do? Explore the gallery and view the What's My Pride? Project pop-up exhibit on display at M3 for the month of June. Celebrate Open Door Pride with us at this event honoring past project participants, encouraging community connection and merriment. Light refreshments will be served. This event is free and all are welcome.
History Days was developed to showcase the history of the Door Peninsula, bringing greater
accessibility to the work of participating organizations. The public is invited to share in the Miller's
free programming the week of June 20 in what is undoubtedly going to be a fun-filled week for art
enthusiasts of all ages! Stop by to see the museum's new satellite space M3 and share in the rich
creative history that Door County is celebrated for.