(Sturgeon Bay, WI)—February 28, 2019—The Miller Art Museum is excited to present a free exhibition talk on March 14, 2019 by David Coury as part of the museum's Second Thursday Educational Program. The talk, titled "East Meets West: Causes and Consequences of Middle Eastern Immigration" is presented in conjunction with the Museum's current exhibition, Mitli Mitlak (Like You, Like Me), which opened on March 2, 2019. It will be presented at 6pm in the main gallery of the Miller Art Museum on March 14 and is free and open to the public.
David Coury is a Professor of Humanistic Studies and Global Studies and also Co-Director of the Center for Middle East Studies and Partnerships at the University of Wisconsin-Green Bay. He has published widely on contemporary German cinema as well as the contemporary novel. More recently he has been studying the intersection of Eastern and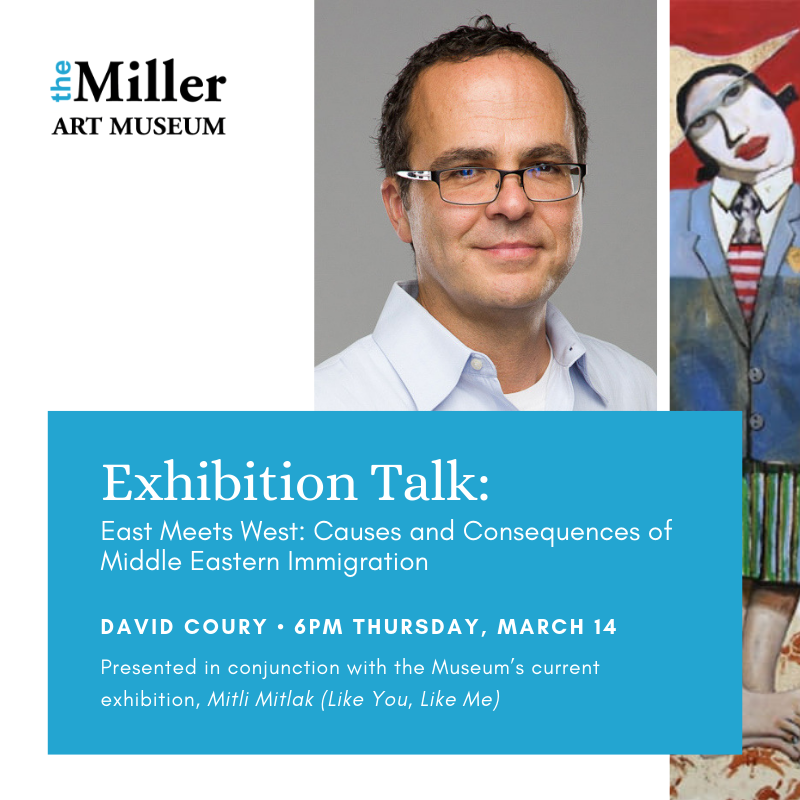 Western cultures as expressed in European literature and film. He has written extensively on the role globalization has played in shaping conceptions of identity as well as the so-called clash of cultures and civilizations in Europe. Coury is also the director of the Green Bay Film Society and serves on the board of Film Green Bay. "The UN High Commissioner for Refugees estimates that over 65 million people have been forcibly displaced from their homes around the world," said Coury, "wars, famine, and climate change have contributed to this displacement, causing some of the greatest humanitarian crises of our times."
Mitli Mitlak (Like You, Like Me) features the work of visual artists from the Middle East, North Africa, and of Arabic descent. The contemporary works include painting, photography, and drawing, all working in a narrative frame to tell stories of refuge, displacement, war, and contemporary visual culture. Many of the artists whose work is featured in the exhibition are residents of occupied areas or refugee camps.
"Artists, writers and intellectuals have reflected on what immigration means for our world today, both politically and culturally," said Coury, "as well as the challenges and opportunities that it presents for us all."
Mitli Mitlak (Like You, Like Me) will be on view through Monday, April 15, 2019.