(Sturgeon Bay, WI)—May 21, 2020—The Miller Art Museum is pleased to announce a new initiative—weekly window exhibitions in downtown Sturgeon Bay. The first rotating exhibition, 'The Still Life: Storytelling & Secret Messages,' debuted on Thursday, May 21, 2020, and highlights a selection of works from the Museum's permanent collection, curated by Helen del Guidice, along with two still life displays by local artists Lynn Gilchrist and Liz Maltman. The public is encouraged to bring a sketch pad or easel, being mindful of social distancing guidelines, to be inspired. Drive-up and sidewalk viewing of this exhibit, along with those forthcoming, is encouraged. The initiative, while evolving, will initially highlight works from the Museum's permanent collection—placing art prominently in the heart of Sturgeon Bay's downtown corridor.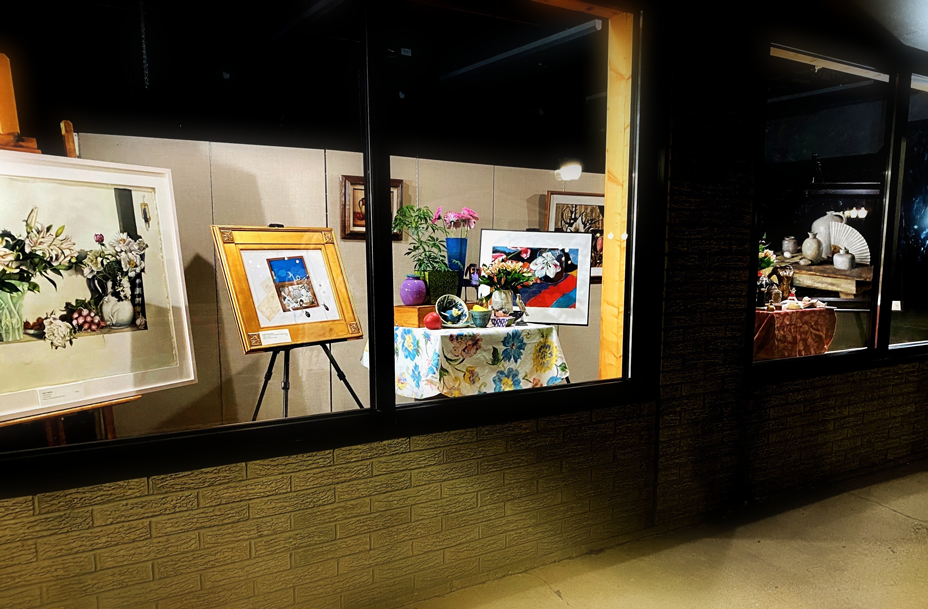 The Miller Art Museum took possession of the 2,600 sq. ft. retail space of the property at 142 S. 3rd Ave. that previously housed the Healthy Way Market in March, which moved just one block south into a new, 8,000-square-foot facility in mid-February.
"While our broader plan is still in the works, we are thrilled about the initial opportunity that the addition of this satellite space affords us," says Elizabeth Meissner-Gigstead, executive director. "Long term, we're looking to expand our reach and build our audience. And, while we continue the most critical of pieces, the planning, this is a first, immediate step that allows us—during this precarious time when artwork is needed in our lives now more than ever—to take works out of storage and share them with the community."
The Museum, along with the Door County Library, has remained closed to the public since March 18 like many other local businesses in the wake of the COVID-19 pandemic. A re-opening plan will be announced in the near future. In the meantime, the public is invited to view 'The Still Life: Storytelling & Secret Messages,' the '46th Annual Salon of Door County High School Art,' which is available in virtual format on the museum's website at https://bit.ly/2WWeghO.
Additionally, FREE sketchbooks are also still available for the #millersketchbookchallenge; to date, well over 100 have been distributed for this project that was initiated as a catalyst for creativity during the pandemic. Everyone is eligible and encouraged to participate; however, sketchbooks cannot be returned empty and it must remain the same as its original dimensions. They may be filled with words, poetry, drawings, observations, photographs, collage—anything that documents this moment in time and subsequent weeks and months. One can create independently, intergenerationally or collaboratively in any media conducive to the format.