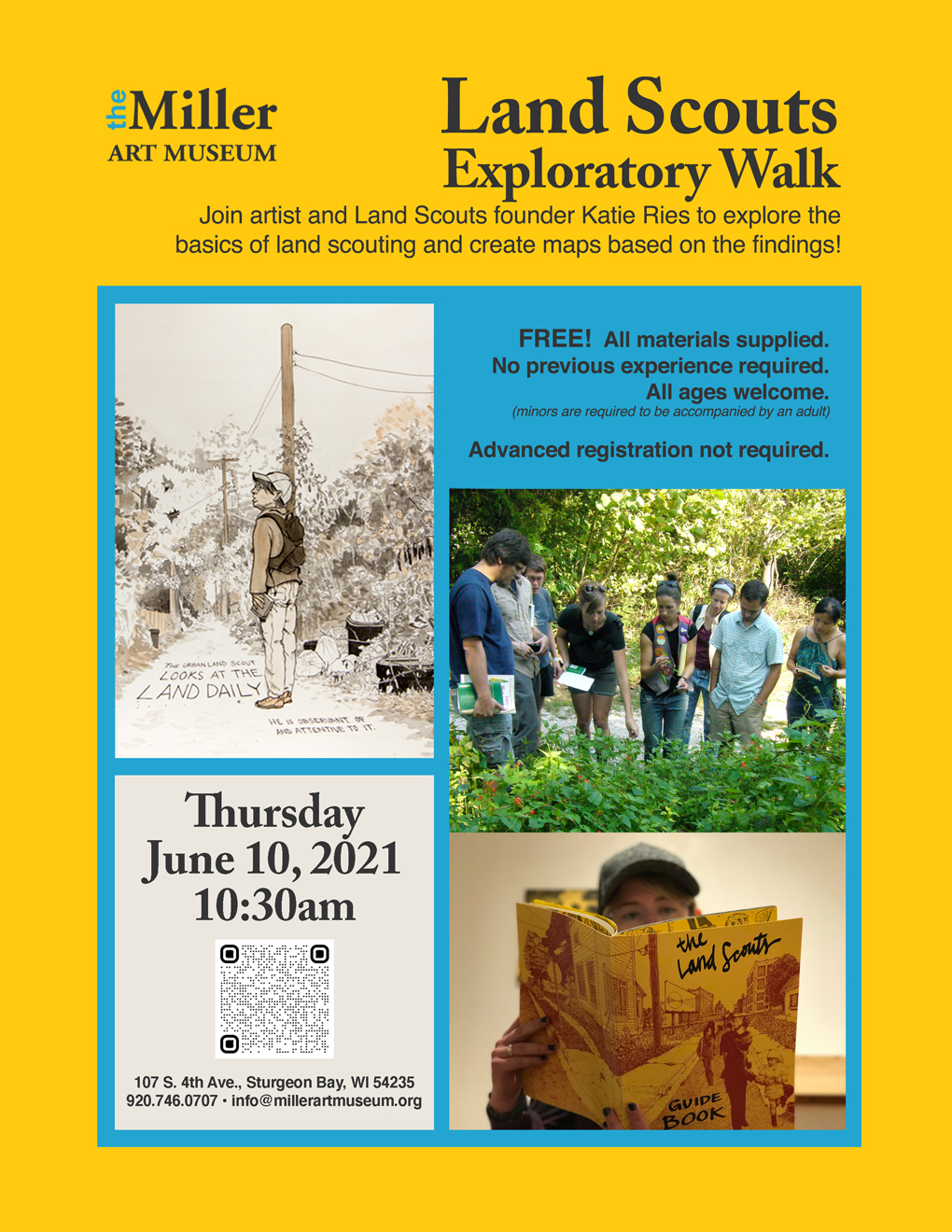 June 3, 2021—The Miller Art Museum, located in downtown Sturgeon Bay, invites the public to participate in a Land Scouts Exploratory Walk, part of the Museum's Second Thursday Program Series, with Katie Ries, educator and visual artist who is represented in the Museum's newest exhibition, Factory Made: Artists Explore the Industrial Scar. Ries will lead participants on a mini excursion in and around the exterior perimeter of the museum where the basics of land scouting will be discussed and maps created based on the group's findings. The FREE program is set for Thursday, June 10 at 10:30am. All materials will be supplied and no previous experience is required. All ages are welcomed but minors are required to be accompanied by an adult. All participants should be able to cross the street unassisted. No advance registration is required.
Katie Ries received her B.A. in Studio art (Phi Beta Kappa) from the Colorado College in 2005 and her Master of Fine Arts with a concentration in Printmaking from the University of Tennessee–Knoxville in 2010. She is an interdisciplinary artist, cultivator, and teacher living in Northeast Wisconsin where she is an Associate professor of Art at St. Norbert College in De Pere. She makes artwork about modern environmentalism, community and the power of observational drawing. Her prints, objects, drawings and events invite viewers to participate in actions of amateur naturalism and iterative making. She is the founder of the Land Scouts, a program promoting foundations of land stewardship through simple and affordable actions. Her work is represented in public and private collections throughout the United States.
Factory Made presents a platform for the exploration of the complex landscape with man's relationship to nature. Ries's interactive installation, What You've Got, features handmade clay seedballs that invites the viewer to take and toss a seedball in exchange for some small object they have in their possession; the interaction makes the viewer a conscious and active participant in propagation.
The exhibition can be viewed at the Miller Art Museum through Monday, July 19, 2021.