April 29, 2021 — The Miller Art Museum in downtown Sturgeon Bay is pleased to present, in collaboration with Jodi Rose Studio and participating partners, Home Grown. The 6-foot-wide public art project is featured alongside Mike & Schomer: Cows, Color and Camaraderie and is a grass roots response to the cancellation of much-needed summer youth programming during the height of the COVID-19 pandemic of 2020. The piece is scheduled to be on display through Saturday, May 29, 2021. In conjunction with the public art display, the Museum's Second Thursday Program on May 13 at 3pm will feature Jodi Rose Studio presenting Scribble Draw!, a virtual workshop focusing on fostering one's inherent creativity.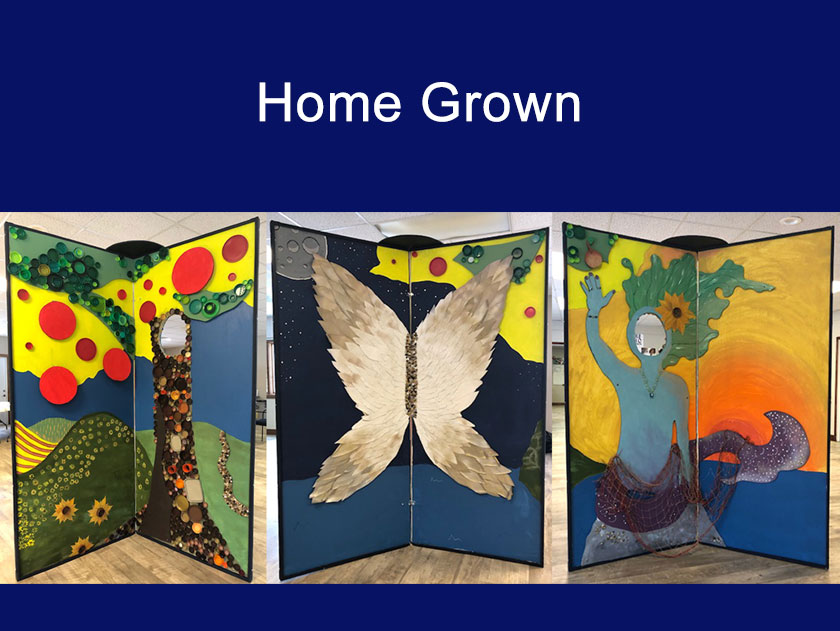 Home Grown evolved from a consortium of mental health providers from Door County Health and Human Services and the United Way of Door County, including members of the Door County Mental Health Focus Group, STRIDE and STRIDE Creative. It simultaneously addressed questions such as What is our response to the pandemic? and Can we make a group-created artwork while social distancing? Further, participants were asked to consider How can the public interact with the completed piece? and Can we design and complete our piece in just a few weeks' time?


Under the guidance of an art therapist, mental health/human services professionals, and a professional artist preparator, participants explored the answers. Three youth groups experienced a collaborative design process that incorporated personal reflection, discussion, negotiation, decision-making, commitment, time-management, task completion and social distancing.

The Design Process
Home Grown offered participants the first opportunity for public interaction since the Safer-at-Home order. Initially, group members explored their response to social distancing, and wearing masks in public. Staff developed safety protocols for making group-created artworks and sanitizing art supplies. Beyond that, social distancing became little more than a design criterion, and pandemic-related concepts simply fell away.
Instead, group members focused on ideas related to Door County as their home. Inclusion and social-political themes transcended COVID-19 as participants carefully considered: What gender is the mermaid?What color is its hair and skin?

Still, "together from a distance" is reflected in the piece: it is six feet wide. It has six sides. Viewers can experience the piece within six feet of each other, though with the separation of a viewing wall.

Home Grown and Common Ground
The COVID-19 pandemic put everyone on a common ground with various aspects of mental health as more people experienced chronic stress, strong emotions, anxiety, isolation, and depression. Home Grown sought to normalize these topics in both its program design, and finished product.

Public Invitation to Interact & Respond
The public is invited to interact with the artwork and to have their picture taken as part of the piece. An accompanying story template can be downloaded by scanning a QR code, which can then be cut out. Participants can then roll each one of the story dice to determine their story's character, plot and challenge to overcome.

Scribble Draw! Thursday, May 13, 3PM | Virtual workshop
Have you ever wanted to make art, only to see a blank page and then wonder what to draw? Are you looking for an easy art prompt that will help you feel more relaxed? Scribble drawing is a popular technique that can be used in different ways. You can scribble draw to warm-up your creativity, and you can scribble away your stress. Join us for a fun virtual workshop that welcomes all ages and skill levels. Bring your sketchbook or a sheet of paper, and colored media such as marker, colored pencil, or pastels. Pre-registration is not required; a workshop link will be available on the Museum's Facebook page and through Jodi Rose Studio.

The workshop will be led by Jodi Gonzales ATR, NCC, RYT200. She is an artist, art therapist and author of the Amazon #1 new release The Doodle's Code: How to Activate Your Creativity for Prosperity and a Better Life. Jodi helps people overcome stress, anxiety, uncertainty and change through a unique fusion of art therapy, positive psychology, and mindfulness. Visit www.jodirosestudio.com or @JodiRose.Studio on Facebook and Instagram.

Home Grown will be on display alongside Mike & Schomer: Cows, Color and Camaraderie through Saturday, May 29, 2021. Current (limited) hours are Monday 12 - 7pm, Thursday and Friday 10am – 5pm and Saturdays from 10am – 1pm. Closed Tuesday, Wednesday and Sunday. Admission is free; galleries are fully accessible. The Museum is located in the Door County Library in downtown Sturgeon Bay at 107 South 4th Avenue. For more information about the exhibit or the museum, call (920) 746-0707 or visit www.millerartmuseum.org.