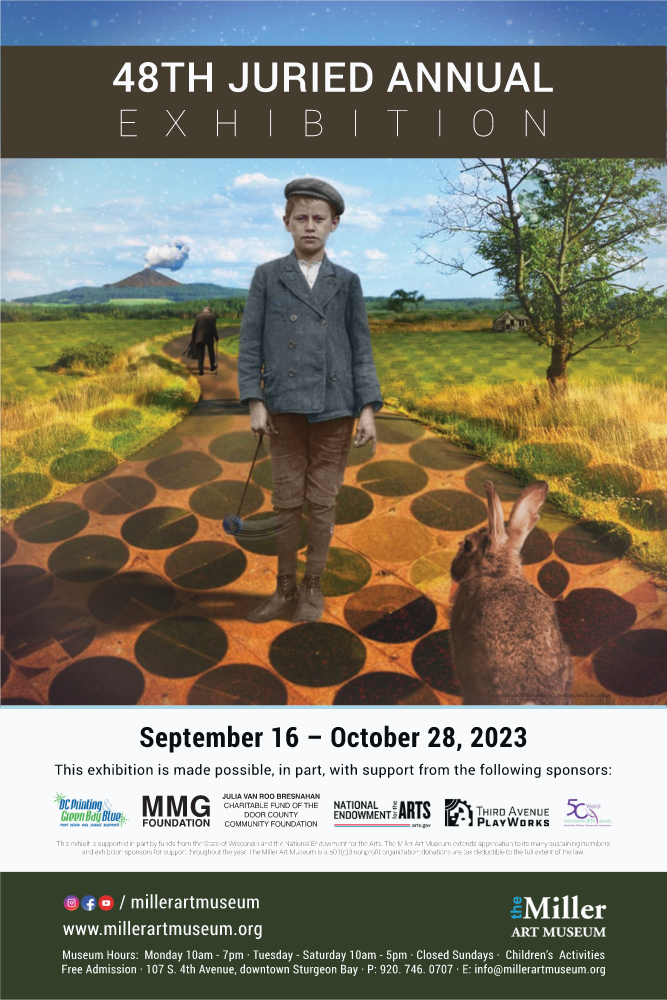 The Miller Art Museum in downtown Sturgeon Bay is pleased to announce the opening of its 48th Juried Annual on Friday, September 15, 2023. Eight award winners, including the recipient of the Gerhard CF Miller Award of Excellence, will be announced at a free public celebration, which will be held from 5:30 – 7pm. Light refreshments will be served and music will be provided by Craig Schultz and Mike Miller. The exhibition will be on view through October 28, 2023.
The Juried Annual, a nearly fifty-year tradition of the Miller Art Museum and a pillar of the annual exhibition calendar, has broadened in geographic scope in recent years to include representation by artists from across the state. The exhibit highlights the tremendous talent and exceptional work of both emerging and established artists across the region who contribute to the vibrant and robust arts landscape.
"Bringing artists together to network and share the exhibition experience here in Door County is so important for the growth of the arts in our region," says Helen del Guidice, curator. "Wisconsin has a strong and dynamic art history, and events like this contribute to the enrichment of that history. It is an exciting snapshot of who is up and coming, and who is still here, active and thriving."
This year's panel of jurors selected 73 works––from among 298 submissions––for inclusion in the exhibition. The panel was comprised of diverse perspectives from Robert David Jinkins, former Artist and Lecturer at the University of Wisconsin-Stout (Menomonie) and newly appointed Visiting Professor with the Ringling College of Art ad Design (Sarasota, FL); Gina Ward, Senior Marketing Specialist for Streamline Publishing, publisher of Fine Art Connoisseur Magazine and Plein Air Magazine (Sturgeon Bay); and Greg Vadney, Executive Director, Rahr-West Art Museum (Manitowoc).

Image credits: Joseph Kaftan, Emma's Tree, glass mosaic | Miguel Camacho, The Cyclists, acrylic | Janine Buechner, Plump on a Stump, printmaking
"Every year this process is full of surprises! It is a pleasure to see so much creativity and technical proficiency from participating artists. This year's jurors did an outstanding job, carefully and respectfully considering each submission, and we thank all artist who submitted artwork for consideration." del Guidice concluded.
A complete list of exhibiting artists include: Nadia AL Khun, Gail Ann Anderson, James Arnold, Kimberly Bauer, Maureen Blaney Flietner, Aaron Boyd, Richard Brawner, Janine Buechner, Kimberly Burnett, Weeya Michelle Calif, Miguel Camacho, Mike Chiaverina, Phyllis Deicher-Ladwig, Randall Dettmann, Justin Fondrie, Natalie Fortuna, Tom Friese, Richard A Geudtner, Judith Golombowski, Beth Gullickson, Bethann Moran Handzlik, Olivia Heckel, Kim "Kimski" Heier, Mitchel Heinrichs, Jeanne Heuer, Lynn Hobart, Susan Hoffmann, Thomas Jordan, Joseph Kaftan, Lauretta Kelley, Dale Knaak, Kevin Knopp, Collette LaRue, Mitch Leavitt, Caitlin Leline-Hatch, Olivia Lorber, Stephanie Lord, Liz Maltman, Christine Metropulos-Friedrich, Tania Nelson, Tracy Nickolaus, Maxine Nobbe, Kandy Otto, Tanya Otto, Jack Pachuta, Leslie Paulus, Brian Pier, Brian Pirman, Anne Raskopf, Susan Reynolds-Smith, Michelle Richeson, Emily Roedl, Amy Ross, Selia Salzsieder, Dianne Saron, Laura Schneider, Beth Schueffner, Claudia Scimeca, Timothy Seery, Mary Ellen Sisulak, Arlene Stanger, Steven Stanger, Caitilin Stolle, Rosemary Stuart, Claire Tellstrom, Leigh Townsend, Sonia Vasquez, Deborah Wage, Mark Weller, Ida Whitney, Ashley Wittling, Isaiah Young, and Xiaohong Zhang.
The exhibition will run through October 28, 2023.

Image credits: Dale Knaak, Hotline, oil | Mark Weller, Restless, digital photograpy | Brian Pirman, Grunge, analog collage
The exhibition has been supported by the following exhibition sponsors: MMG Foundation, Inc., Julia Van Roo Bresnahan Charitable Fund of the Door County Community Foundation, and DC Printing with additional grant and in-kind support from Third Avenue Playworks and the Wisconsin Arts Board with funds from the State of Wisconsin and the National Endowment for the Arts.
The museum is located within the Door County Library at 107 S. 4th Avenue, Sturgeon Bay. Hours are Monday 10 am - 7 pm and Tuesday through Saturday 10 am – 5 pm. Closed Sunday. Admission is free; an elevator is available to access galleries on the Ruth Morton Miller Mezzanine. For more information about the exhibits or the museum, call (920) 746-0707 or visit www.millerartmuseum.org. Find the museum on Instagram at @MillerArtMuseum or Facebook at Miller Art Museum.
EXHIBITION PROGRAMMING
Member Preview Tour
Friday, September 15 | 4 – 5:00pm
Miller Art Museum | 107 S. 4th Avenue, Sturgeon Bay
Join Curator of Exhibitions Helen del Guidice for an intimate guided tour prior to the exhibit opening to the public. Free with membership.
Opening Reception
Friday, September 15 | 5:30 - 7 pm
Miller Art Museum | 107 S. 4th Avenue, Sturgeon Bay
Celebrate the opening of the 48th Juried Annual and enjoy light refreshments and live music by Craig Schultz and Mike Miller. This event is free and open to the public.
Art/Speaks
Friday, September 29 | 11am – Noon
Miller Art Museum | 107 S. 4th Avenue, Sturgeon Bay
Write On, Door County, in partnership with the Miller Art Museum, presents Art/Speaks, a free writing lab encouraging people to write in response to exhibited artworks. Led by poets Carrie and Peter Sherrill, the 60-minute writing activity is perfect for both beginning and advanced writers in any genre. Free; advance registration is not required.
Exhibit Review with Craig Blietz
Thursday, October 26 | 10:30am – Noon
Miller Art Museum | 107 S. 4th Avenue, Sturgeon Bay
Every fall, the Miller Art Museum's Juried Annual brings an opportunity for the community to witness the breadth of talent from visual artists across the state. Join Craig Blietz, celebrated Door County painter, who will examine and discuss the 48th Juried Annual. The event is free and open to the public.