July 27, 2023—The Miller Art Museum's popular Art & Treasures Fundraiser, now in its 18th year, is set to debut to the public on Saturday, August 5, 2023. The fundraiser will take place at the museum's satellite education space M3, located at 142 S. 3rd Avenue in downtown Sturgeon Bay.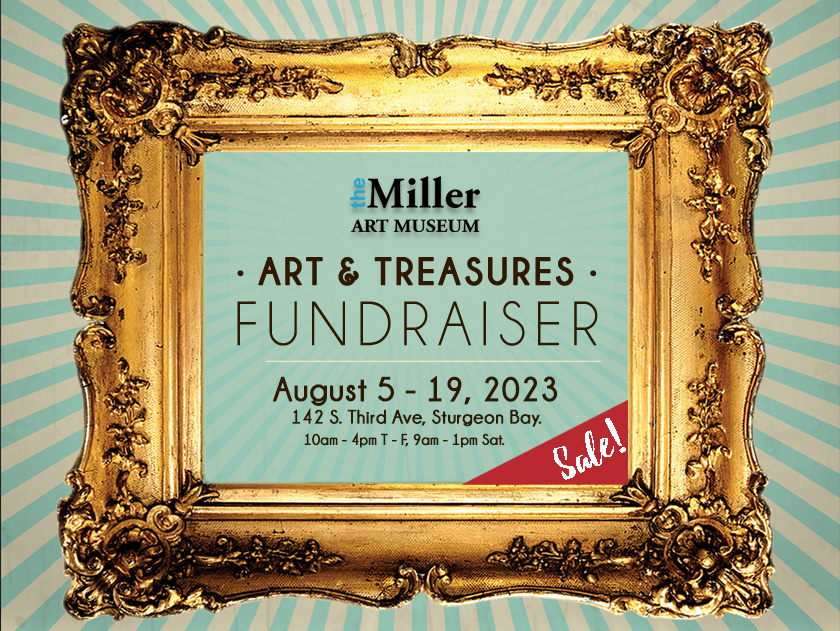 The free public event kicks off on Saturday, August 5 at 10am; fundraiser hours are Tuesday – Friday 10am – 4pm and Saturdays 9am – 1pm through August 18, 2023. Hours on Saturday, August 19 are 9am – Noon.The Art & Treasures Fundraiser presents a fun and eclectic collection of items from year to year, including new and gently used original fine art and reproductions, art-related items, objects d' art, art supplies, books, a diverse selection of high-quality frames, household décor, vintage goods, collectibles, holiday items, fabrics, small furniture items, linens and unique oddities. All donated goods are sold by the Miller Arts Museum and proceeds support museum activities.
"Art & Treasures in particular impacts our ability to carry out our mission and our programming," says Executive Director Elizabeth Meissner-Gigstead. "We're incredibly grateful to the community for their tremendous support of this endeavor through the form of donations or purchases from year to year as it, in part, sustains our work and ensures access to a continued presence for the visual arts in downtown Sturgeon Bay. And, it's an event that the public looks forward to and enjoys every year."Donations will be accepted through Saturday, August 12 and can be delivered to M3 during sale hours. Donors are asked to have items contained in a bag or box for ease of unloading and storage. Items must be clean and in good condition. Items NOT accepted include electronics, CD's, large furniture, personal products (lotions, soaps, etc.), and bed components (mattresses). Additional information and details about accepted items can be found on the museum's website at millerartmuseum.org. Questions may be directed to museum staff for items not specifically listed.
"The art supplies and additional needs that are met through this fundraiser allows the museum to be able to continue to offer free and accessible public programming, events and partnerships to the Door County community," says Education and outreach Coordinator Marie Kimball. "We appreciate the community's help in making these museum offerings a reality."
For more information or to donate items for the sale, contact the Miller Art Museum office at 920.746.0707 or . Drop-off appointments can be made between the hours of 10am and 4pm Monday through Friday or at the museum 10am – 5pm Saturday.