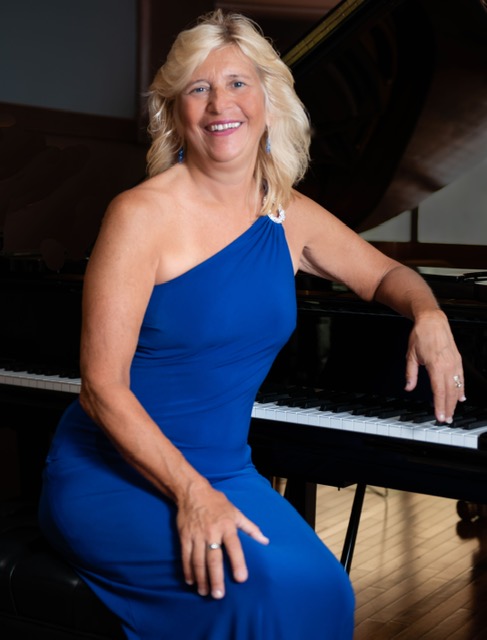 September 3, 2021—The Miller Art Museum in downtown Sturgeon Bay is pleased to host concert pianist Jodie DeSalvo on Friday evening, September 17. DeSalvo will take center stage on the Museum's stunning Mason and Hamlin grand piano in an evening that will feature classical pieces, including Clair de Lune, Malagueña and Rhapsody in Blue. The concert is scheduled for 7pm with free will donations accepted at intermission.
Jodie DeSalvo has been a Birch Creek faculty member for over 20 years and has captured national and international attention with her classical and jazz interpretations of the masters of keyboard literature. Upon winning the Artist International Competition in 1988, Ms. DeSalvo made her Carnegie Hall debut to critical acclaim with an encore performance two years later at Lincoln Center.
She has been a top prize winner in the Young Keyboard Artists Competition, the American Music Scholarship Competition and the National Federation of Music Clubs Competition. A graduate of the Hartt and Manhattan Schools of Music, and a former student of John Browning and Gary Graffman, she is also a past recipient of the Artist Fellowship Grant from the National Endowment for the Arts. She has toured extensively as a piano soloist appearing with the orchestras of Chicago, Geneva, Lucerne, San Francisco, Hartford and Chautauqua. DeSalvo also has a recital/lecture series at the Artis-Naples and has numerous CDs to her credit. A noted chamber player, Ms. DeSalvo has appeared with cellist Sharon Robinson, violinists Glenn Basham and Jennifer Frautschi, the Miami String Quartet, the Bergonzi String Quartet and members of the American String Quartet. She has performed at such prestigious festivals as Brevard, Chautauqua, Birch Creek, as well as over 100 times on National Public Radio.