January 15 - April 11, 2022
Marine Life from Shore to Floor by Peggy Macnamara features the work of artist Peggy Macnamara, who has been the artist in residence at the Field Museum, Chicago, IL, for 30 years. Marine Life from Shore to Floor presents 35 large-scale watercolors paintings created in partnership with Ocean Conservation Scientist Janet voight, as Macnamara illustrates Voight's subjects, work, and findings.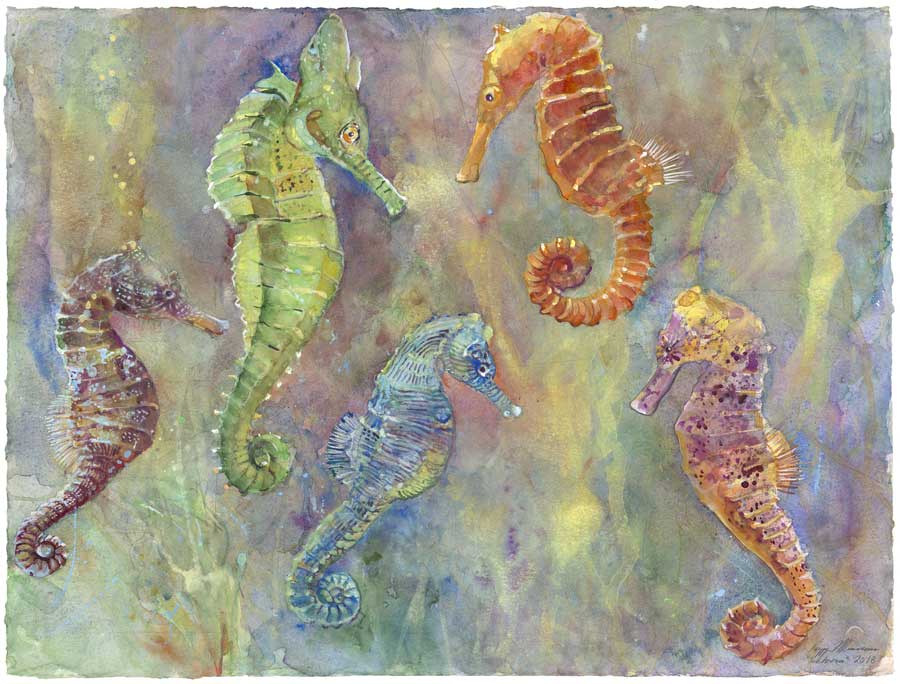 ARTIST MISSION STATEMENT
My work is about the study of nature. I hesitate putting myself in such a grand tradition, but there it is. I admire those that have gone before and find myself studying old techniques while pushing in new directions. Unlike science where those that follow build on the knowledge discovered before them, artists seem to emulate and eventually grow into the concerns of their time. I believe that by looking carefully at the entirety of nature I will learn to see better and gather an understanding of form and color that will make me a better artist.
ARTIST BIOGRAPHY
Peggy Macnamara has served as the Artist-in-Residence at the Chicago Field Museum of Natural History since 1990, and as an Associate Professor at the School of the Art Institute of Chicago. Macnamara has traveled with Field Museum scientists all over the world to paint nature and illustrate conservation efforts. She has published 5 books in collaboration with museum scientists through University of Chicago Press. In addition, Macnamara has created 2 children's books (one with Northwestern University Press) and a coloring book. Her 6th book about underwater sea life and conservation efforts is due in early 2022.
​
Having been associated with the Field Museum for more than thirty years and a regular visiting painter at museums across across North America and Europe for fifteen years, Macnamara has also produced a series of classical drawings as well as paintings that bring together museum architecture, natural scenes, and cultural artifacts. A large collection of Macnamara's Original Watercolor Paintings are on permanent display at the Field Museum,1400 S Lake Shore Dr, Chicago, IL.
Support for this exhibit has been provided by the Wisconsin Arts Board with funds from the State of Wisconsin and the National Endowment for the Arts.