The Miller Art Museum presented the exhibition, Winter's Spring: An Altere Garten by Leslie Iwai, beginning Saturday, October 24, 2022. Originally scheduled to close on Saturday, December 26, 2020; the exhibition was later extended through February 26, 2021 to give visitors more opportunities to view this wonderful installation.
Middleton, Wisconsin based installation artist Leslie Iwai explored the connection between elders and children with vibrant colors and sculptural creations, which unfolded into a joyful, metaphoric garden. While kindergarten recalls stories and images of burgeoning children, blossoming gardens and childhoodadventures, the Ältere Garten contemplatedthe re-emergence of innocence and childhood wonder that comes in the later decades of life.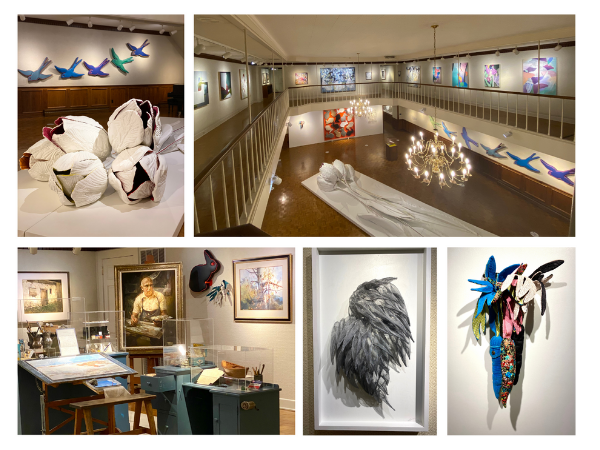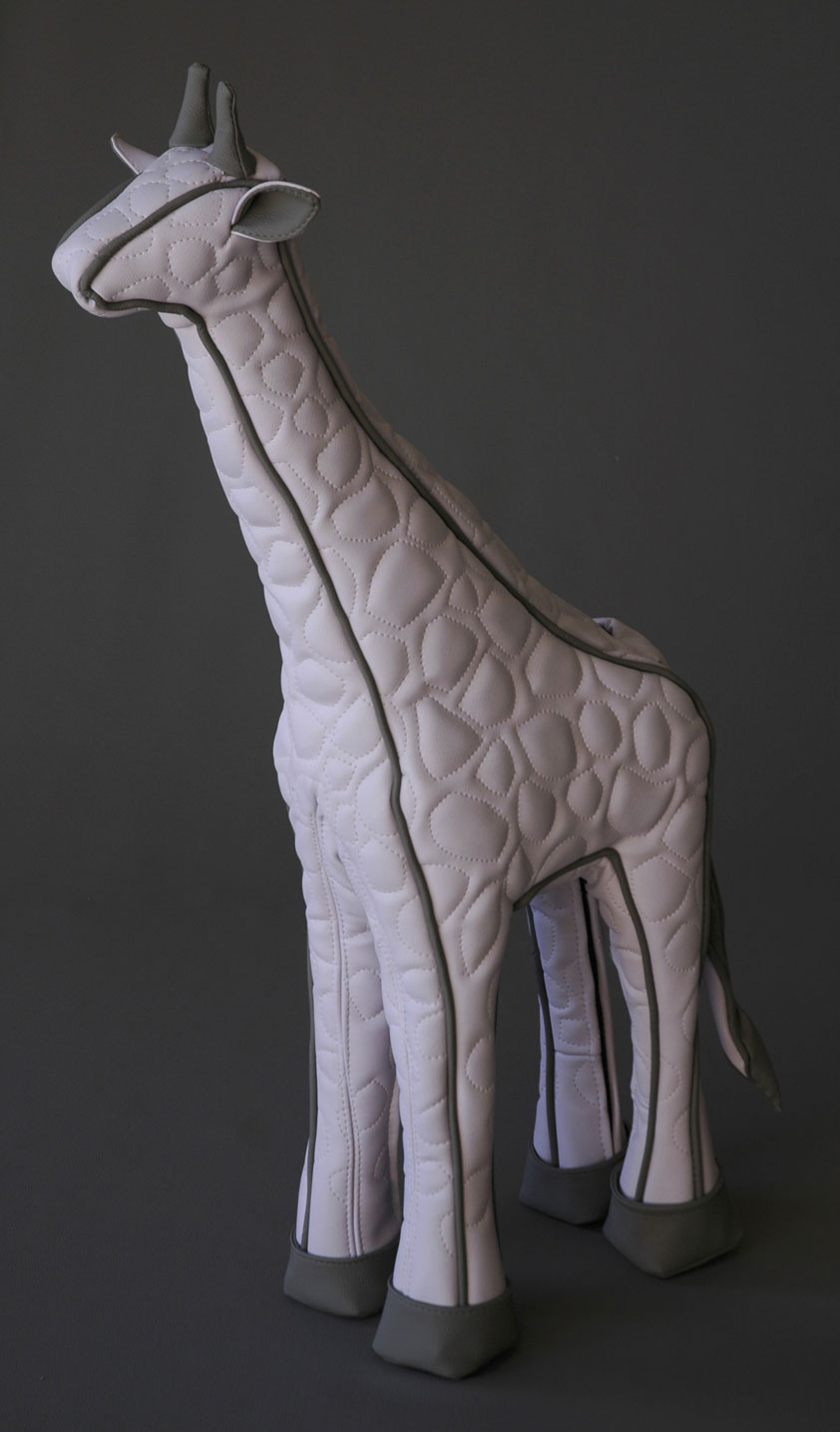 Image 1: Tulips for Clements and Hutch in the Main Gallery. Image 2: Top row: Detail of Tulips for Clements, Dusk to Dawn, and Hutch. Bottom left to right: Escaped from the Hutch, Armoured, detail from Secret Carrots. Image 3: Levi.
A 3' vinyl giraffe titled Levi, greated visitors at the entrance to the garden and infused them with a sense of childhood wonderment. Iwai's centerpiece in the exhibit titled, Tulips for Clemens, presented a bouquet of three 20' long tulips inspired by a man named Clemens, a former art student of Iwai's suffering from cognitive disabilities, who improved his life through the act of drawing tulips.
"In working with Clemens over a 3 year period, I saw him take creative risks and come out of his shell. When he passed away suddenly, our class took time to process the loss of our friend. That day in early spring with snow on the ground, I brought a bouquet of tulips to class and we all drew tulips and remembered him. It seemed that his spring came in the winter of his life." Says Iwai.
Iwai's newest installation piece, Hutch, was populated by a collection of 16 vibrant, handcrafted vinyl rabbit sculptures. A mix of minimalism and whimsy, Hutch is reminiscent of the beloved plush toys of childhood. Where the rabbits were clustered, cuddling and playful, and emotive of the safety of home, the love of family and a sense of belonging. Visitors were asked to keep their eyes open however, as several of the hutch rabbits had escaped and were roaming free in the museum galleries. A fun, no-touch activity for children and adults alike, vinyl rabbit sculptures were installed in random locations throughout the museum for visitors to discover.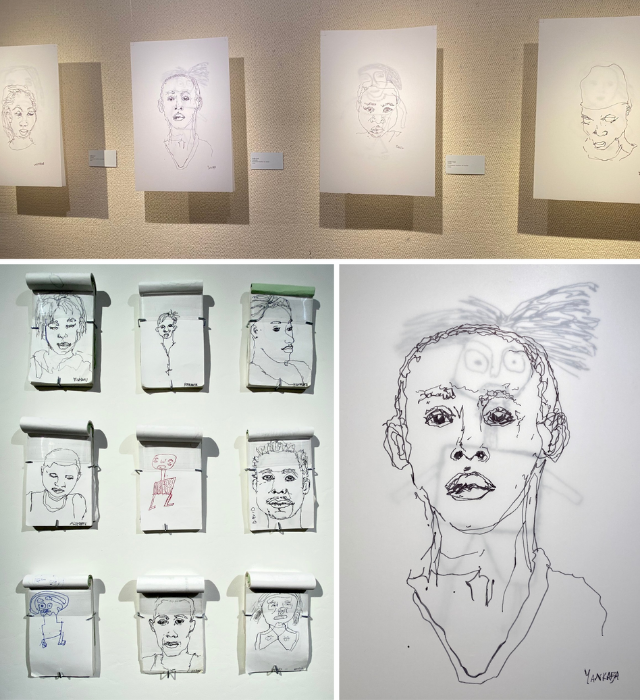 Clockwise from top: Detail from series titled Interfacings, Yankaba, and Miniature Stapled Sketchbooks.
Additional drawings and sculptural works by Iwai enhanced the exhibition by showing Leslie's long-standing fascination with the intimate and her tender, caretaking perspective. Selections from a series of drawings titled Interfacings, were on display. For the Interfacings drawings, Iwai engaged with people by first drawing them on a sheet of transparent mylar, and then on the reverse side, asked them to draw her back. Through this exchange, Iwai bridged the gap between the disconnectedness of physical and emotional barriers, and the human desire to truly connect and interact on a deeply personal level.

Spring's Thaw/ Winters Growth by Leslie Iwai.

A light box installation, Spring's Thaw/Winter's Growth featured transparent and illuminated recreations of the dictionary Iwai uses to collect and press maple seeds, feathers, leaves, petals and other natural debris. Pressed between layers of glass and illuminated, these natural objects revealed the fragile memories and intimacy they hold within the bound pages. Leslie Iwai invited guest artist Pat Zastrow, who is a source of Leslie's inspiration for the exhibition, to present her journals and paintings documenting the growth and memories her garden represents over a 50-year period. A large scale marker drawn cartoon and a hand painted silk drapery created from selections of Zastrow's journals was also on display.
In addition, in the Ruth Morton Mezzanine gallery, which overlooks the main gallery on the lower level Curator, Helen del Guidice presented botanical and aviary drawings and paintings from the Miller Art Museum's permanent collection as an extension of Iwai's garden. "I saw an opportunity to activate works from our permanent collection and allow them to be part of Leslie's story. We have a strong presence of wonderful botanical and wildlife works in the collection, which will enhance what Leslie presents." Says del Guidice. The mezzanine exhibit included works by former Miller Art Museum Director, Bonnie Hartmann, Jonathan Wilde, Richard A. Mueller and Les Didier, amongst others.