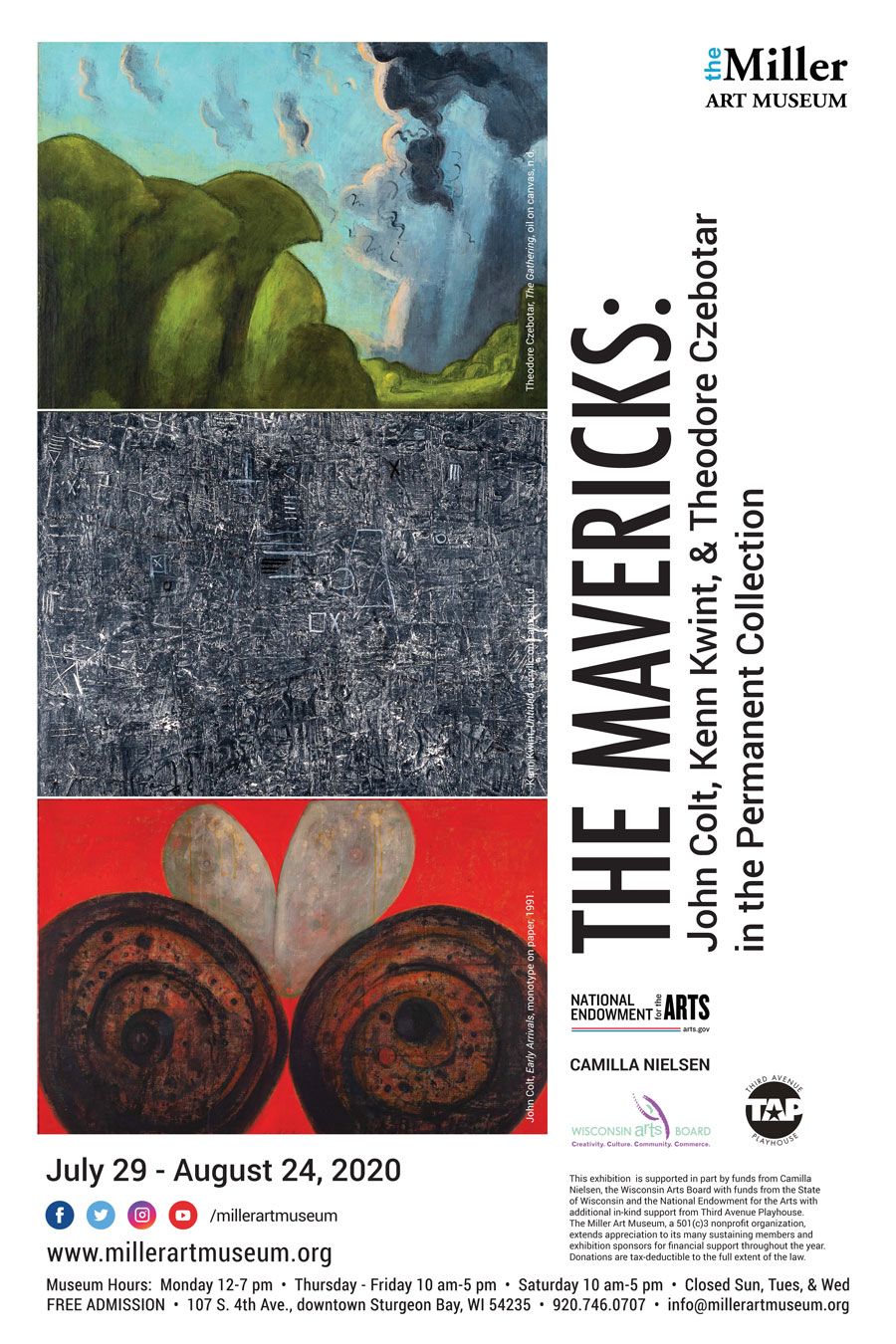 The Maverick's Virtual Exhibition
July 27, 2020 marked the debut of new summer exhibitions: The Mavericks: John Colt, Kenn Kwint and Theodore Czebotar in the Permanent Collection in the main gallery and selections from the permanent collection on the second-floor galleries of the Ruth Morton Miller Mezzanine that highlight central genres traditional in nature, including portraiture, still life and black and white photography. Large-scale watercolor and egg tempera paintings highlight some of founder Gerhard Miller's preferred subjects, including shorelines, forest floors, maritime and Door County homesteads.
The Mavericks provides visitors the opportunity to see works that have never been displayed publicly by Wisconsin artists John Colt, Kenn Kwint and Theodore Czebotar. The collection consists of nearly 40 works that were gifted in 2019 by the Kohler Foundation Inc. of Sheboygan and offers viewers a meaningful representation of each of the individual artists and their careers. Click here to view the virtual exhibition: https://curat10n.com/miller-mavericks/.
"Traditionally our collecting focus has been on Wisconsin artists," explains Miller Curator Helen del Guidice. "From that standpoint, this gift is particularly meaningful and exciting for us. Some of the works add to our existing holdings as is the case with John Colt, but other works provide us with the opportunity to introduce new, historically significant and influential regional artists with our audiences here in Door County and throughout the greater Northeast Wisconsin region. The new acquisitions by Colt, in particular, will allow us to better highlight the artist's growth and changes from different points of his career. The gift also included several of the artist's sketchbooks, which offer insights into the development of his work and will also be on display," del Guidice continued.
By definition, a maverick is a lone dissenter, an eccentric, an intellectual or an artist, who takes an independent stand apart from his contemporaries. And, by definition, Colt, Kwint and Czebotar were all indeed mavericks of the Wisconsin art world with singular visions that distinguished them from their peers.
"While each of their personal stories, eccentric artmaking practices and unique visions create a common bond among them, it is also the work itself. All three of these artists used abstraction, expressionism and mark making in different ways, and all three passionately dedicated themselves to subjects that were outside the norm of their time. Resulting is an exhibition, eclectic in nature, that speaks in a congruent and reciprocal language," says del Guidice.
With subject matters ranging from explorations into the world of insects and tiny creatures by John Colt, the symbolism of primitive language and a bold look into the human psyche by Kenn Kwint, to the foreboding landscapes in rough, rarely visited terrains by Theodore Czebotar, the works are bound together by the unique passions of the individual artists.
It has been said that a maverick is someone who writes their own rulebook and it has also been said that only a maverick is rebellious enough to create true innovation. John Colt, Kenn Kwint and Theodore Czebotar, each in their own way, did exactly that.
JOHN N. COLT John Colt, 1925-1999, was born in Madison, WI, and is considered to be one of Wisconsin's most significant 20th century artists. Serving as a Navy submariner in WWII, Colt went on to serve as an art instructor at the University of Wisconsin, Milwaukee for 33 years. In his artwork, Colt had a fascination with tiny life such as tadpoles, grasshoppers, toads, mushrooms and even microscopic organisms. His fantastical works depict the private life of tiny creatures as they are born, metamorphosize and eventually decompose. Colt's uses brilliant color and subtle use of abstract expressionism creates a mysterious, tiny and delightful natural world on small, and large-scale canvasses.
KENN KWINT Kenn Kwint, 1937-2020, was born in Milwaukee, WI and began painting at the age of 13. Kwint served in the Korean war and later attended the Layton School of Art in Milwaukee, building a dynamic artistic career with national recognition. Kwint's work embraces abstraction and expressionism fully with dynamic, impactful imagery. Three large scale abstract works delve deeply into symbolism and mark making. Kwint creates a personal hieroglyphic by exploring language through layering and carving techniques in oils. Kwint's figurative works embrace expressionism and, are a face to face dive into the psychologic inner world of his subjects, unapologetically depicting the monstrous side of the human psyche.
THEODORE CZEBOTAR Theodore Czebotar, 1915-1996 was born in Milwaukee, WI, as the second child of 6 to Polish immigrant parents. As a passionate youth, Czebotar was a poet and painter who rode the rails across America, he was later discovered by American Regionalist John Steuart Curry. Czebotar became disillusioned with the art world of the interwar period and abandoned it, but his obsession to paint continued. He practiced of "into the wild" excursions to paint the harshest environments he could discover, including the northern woods of upstate New York and the Sonora desert. Czebotar was as eccentric and wild as his enchanting landscapes. The exotic colors, surreal shapes and cavalier marks depict rarely visited natural scenes that are as unpredictable and surmounting as Czebotar himself.