The Miller Art Museum invites community members to participate in a sketchbook challenge—no matter age or skill level—to document this unprecedented time in our lives. The Miller will have FREE sketchbooks available to anyone wishing to participate. A blank sketchbook may be picked-up any time after 5pm Monday, March 30, 2020, from the literature box outside the south door of the Miller Art Museum office, located at 360 Nebraska Street, filled up and later dropped off or sent back to the museum when the pandemic and threat of social interaction subsides.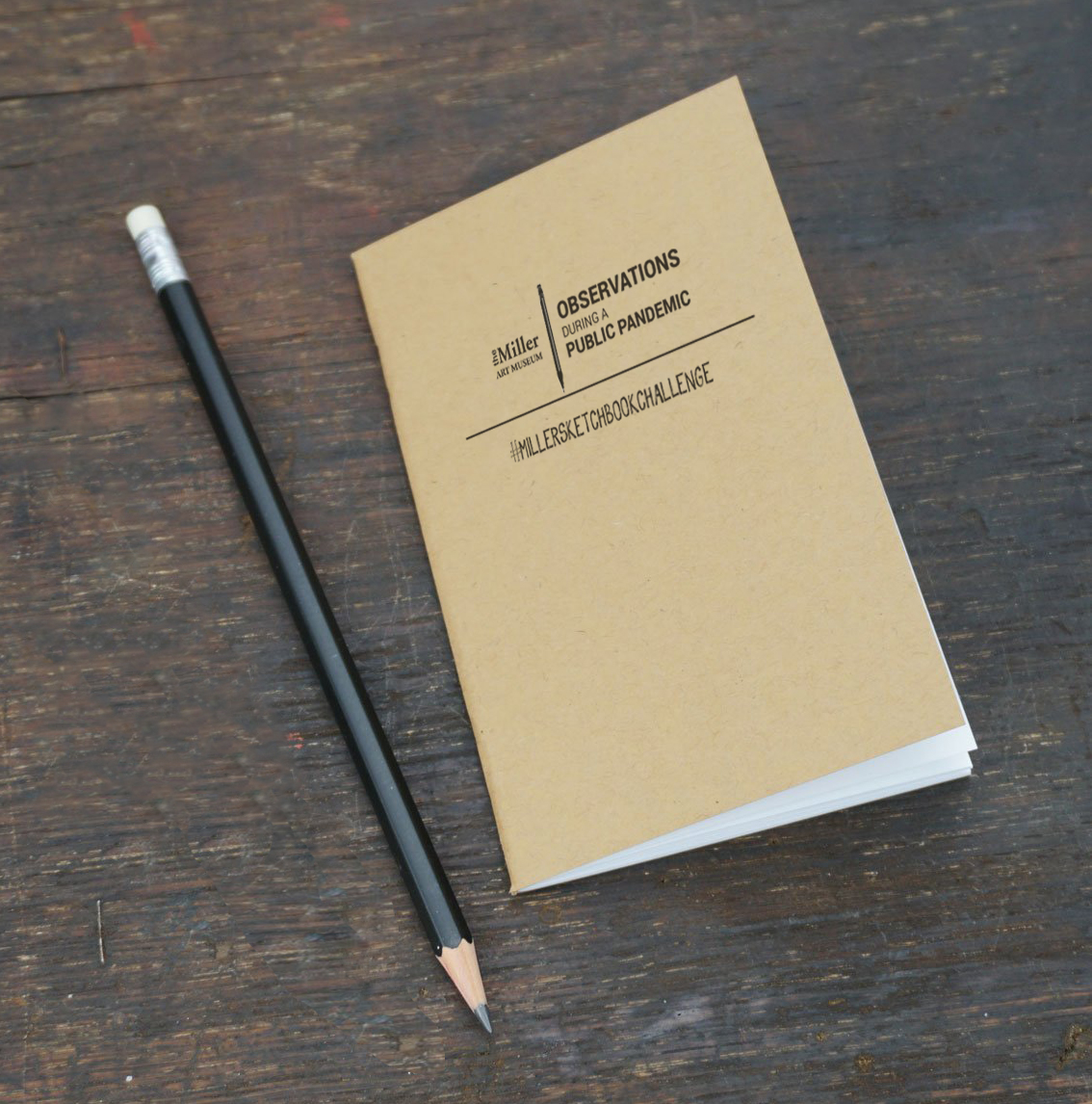 In February, the Miller Art Museum launched a weekly community sketchbook challenge that invites submissions from followers for the #millersketchbookchallenge, which is featured on the museum's Facebook story every Thursday. The project amplifies and builds on this existing concept.
"Never before have we experienced anything like COVID-19," says Elizabeth Meissner-Gigstead, executive director. "We want to move beyond the physical space of our galleries—which, like so many other local businesses, has closed—and hear from our community about what their individual experiences surrounding the pandemic have been. Regardless of the chosen medium of documentation, the intent is to foster the development of this alternative narrative, outside of the barrage of social media, that brings together the many voices of our community and weaves a narrative that can be used as a platform for reflection as we move into the uncharted territory of the months ahead."
Anyone can participate in the project; however, the book cannot be returned empty and it must remain the same as its original dimensions. They may be filled with words, poetry, drawings, observations, photographs, collage—anything that documents this moment in time and subsequent weeks and months. One can create independently, intergenerationally or collaboratively in any media conducive to the format. There is a limit of one sketchbook per person so as to ensure broad community participation.
"The timing is appropriate given the circumstances," Meissner-Gigstead continued. "As we're having to accept the reality of social distancing and the lack of interaction with other human beings other than those in our immediate circle, we offer this project as a catalyst for creativity, an outlet to maintain our sanity, and a source of social healing and change to push us beyond the frustrations and anxiety that many of us are feeling at the moment."
If you're finding yourself with idle hands, the Miller would love to see the art you're creating. The FREE sketchbooks will be available while supplies last. In addition to or in place of, community members and artists are encouraged to hashtag #millersketchbookchallenge on a Facebook post of your sketchbook or any media of work and the museum will consider it for inclusion is upcoming postings.
(Sturgeon Bay, WI)—February 28, 2020—The Miller Art Museum in downtown Sturgeon Bay is pleased to present, in collaboration with Write On, Door County, Art/Speaks: Writing in Response to Art on Thursday, March 12, 2020 at 10:30 am. Part of the Miller Art Museum's popular Second Thursday Program Series, this ekphrasis workshop connects writing with the visual arts through inviting participants to write about the emotions evoked by a piece of art, resulting in a cross-pollination between artistic mediums.
The term "ekphrasis" comes from ancient Greek, and in English it roughly means "a description." The tradition of ekphrastic poetry is a long, rich, and varied one, with poets from Ovid to Frank O'Hara taking delight in the mirroring (or reconstructing or deconstructing) a visual image via the use of a written text. Ekphrastic poems utilize a myriad of forms and strategies, and they respond to, incorporate, investigate, embellish, interpret and/or reflect upon a vital work of art—usually either a painting, photograph, or sculpture.
The program is being presented in conjunction with the Miller's newest exhibition, Wade in Water, Into the Field: Paintings by Judi Ekholm. Ekholm's bold, romantic Impressionist paintings will serve as inspiration. Write On, Door County representative Francha Barnard will lead the 60-minute activity, guiding participants into writing a poem or prose piece in response to chosen works. Following the writing, participants will share their work aloud with other participants, should they choose to do so. The program is FREE and open to all, but registration is requested. No previous writing or art experience is necessary.
Wade in Water, Into the Field will be on display through Monday, April 6, 2020. The exhibition is supported, in part, by the Wisconsin Arts Board with funds from the State of Wisconsin and the National Endowment for the Arts and has been generously sponsored by Jack and Sue Anderson, the MMG Foundation and Third Avenue Playhouse.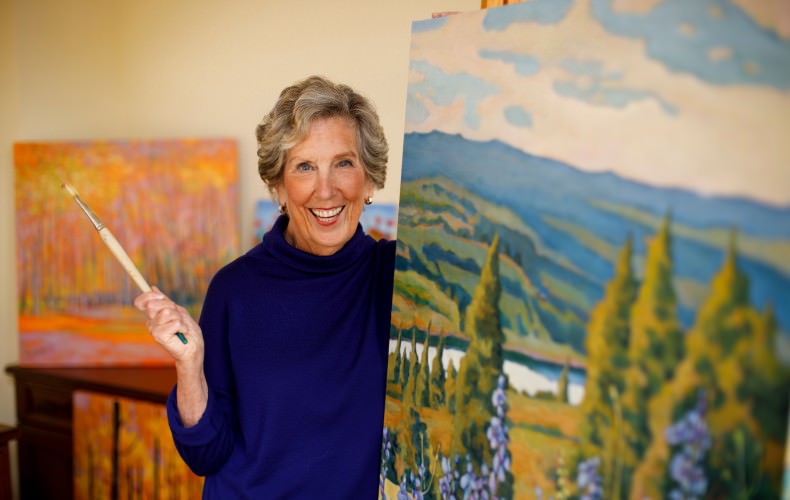 (Sturgeon Bay, WI)—February 19, 2020—On February 29, the Miller Art Museum in downtown Sturgeon Bay will open Wade in Water, Into the Field: Paintings by Judi Ekholm. Wade in Water surveys the work of beloved Door County painter Judi Ekholm, spanning from the early 1990s to present and features a collection of more than 35 paintings. An opening reception, free and open to the public, is scheduled for Saturday, February 29 from 3 – 4:30pm. Remarks will take place at 3:30pm and light refreshments will be served. This inaugural solo museum exhibition will be on view through Monday, April 6, 2020.
Judi Ekholm is a Fish Creek, WI, based painter celebrated for her poetic, bold interpretations of the flora and fauna of the natural landscape. Color and pattern are signature elements of her contemporary impressionistic works, which are focused specifically on the adoration of ponds, fields of flowers, waterways and vistas. Wade in Water, Into the Field highlights a range of new paintings alongside works on loan that, in total, presents the growth and stylistic changes of the artist over a 30-year period.
(Sturgeon Bay, WI)—January 31, 2020—The Miller Art Museum in downtown Sturgeon Bay is pleased to announce the first event of the museum's 2020 Second Thursday Program Series, which kicks off a new year of free public programming; an artist talk by Baileys Harbor textile artist Susan Hoffmann is scheduled for 10:30 a.m. Thursday, February 13. The event will take place in the main gallery of the museum and is free and open to the public.
Hoffmann's talk will complement the Museum's current exhibition, Textile Tableau: An Exploration of Painting with Fiber, which features the work of eight contemporary artists, Hoffmann included, and focuses specifically on artists who are usurping the use of paint by incorporating the methodologies and canons of painting as starting points for a greater exploration into fiber work.
(Sturgeon Bay, WI)—November 13, 2018—The Miller Art Museum is pleased to announce the award winners from the 43d Juried Annual Exhibition. Every year the Miller Art Museum invites artists 18 years of age and older to submit up to two works in two-dimensional media for consideration in this competitive exhibition. Artists from Door County and the surrounding five counties (Sheboygan, Brown, Kewaunee, Manitowoc, and Oconto) are invited to submit works.